Two housekeeping notes here. I used to blog a lot more news items than I do now — because I push many of the relevant news items via my Twitter account. I find it to be more efficient. You can access my Twitter account here — or use our newswire, which is free, that also compiles some great breaking news accounts for finance.
Browsing thru the news this morning and afternoon a few things stood out.
1. Saudi Arabia and Russia continue to argue about crude prices and the meeting for Monday has been canceled with a tentative raincheck date scheduled for April 9th.
2. Credit markets continue to deteriorate, but credit agencies are not downgrading CDO and CLO tranches.
3. A fuckload of maturities are due in 2020. For $MET along, 16% of their debt needs to be rolled over.
4. Platts Analytics believe supply won't be turned off to the degree necessary unless Brent goes to $10.
5. Lines of credit are being drawn down at a record pace, with $15b+ being drawn in recent weeks. Total revolvers amount of $200b, half of which are in the consumer discretionary sector.
6. There are massive shortages of medicine and medical equipment due to COVID-19.
7. The death rate isn't decreasing and the 'flattening of the curve' isn't here yet.
8. Goldman says the nation's largest department stores have 1 month of cash left
And this you have to see for yourself.
PLEBS: STOP USING TOILET PAPER! pic.twitter.com/6OfnX24cQQ

— The_Real_Fly (@The_Real_Fly) April 4, 2020
Honestly, I don't know what the hell is going on — but I do know none of this is good for business and share price valuations. At a minimum, even after we cure COVID-19 and business gets back to normal, there will be a reduction is business activity due to PTSD and margins will be strained, as businesses attempt to restart their engines.
The S&P is down 23% for the year. Is that enough? The tech heavy Nasdaq is only down 14% for the year — because business as usual in tech-land. No one thinks Apple can be stopped.
What is this fucking chart telling me? Did we break the downtrend or is this rally a suckers respite that will fail and revisit the lows? You know the "WE MUST RETEST THE LOWS" fags are going to be out in force come Monday — should markets drop again.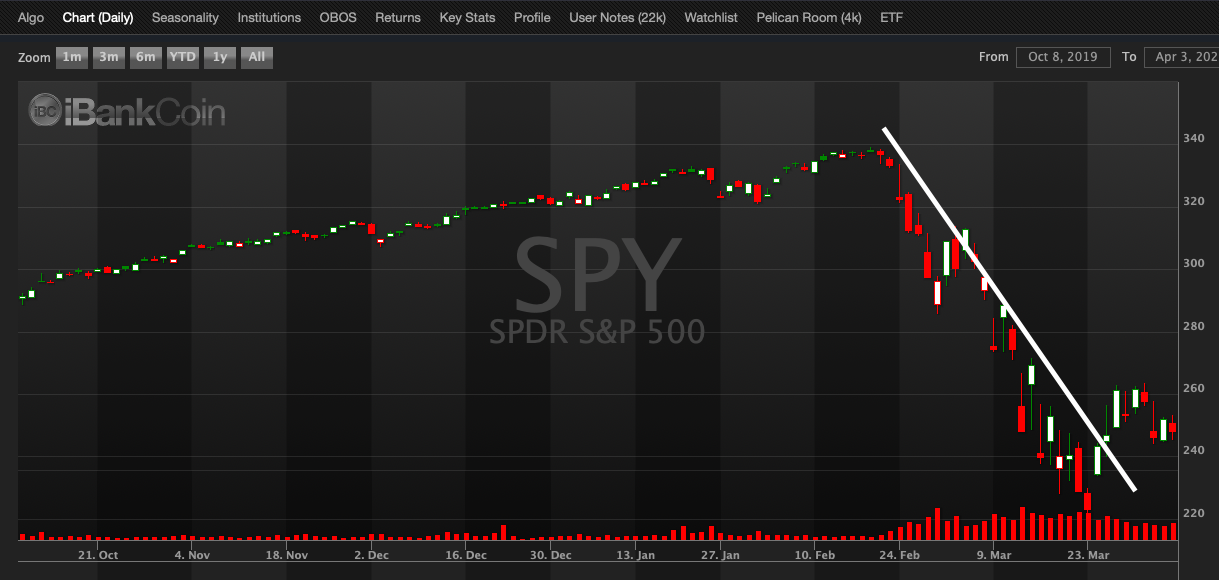 Markets will most likely soar once we start to see normalcy return and people will think everything is good, up until numbers showing permanent damage are disseminated. It's going to be a very volatile market for at least another 6 months.
If you enjoy the content at iBankCoin, please follow us on Twitter