Markets are barreling towards session lows after a sundry of rookie punk traders jumped in headlong into concrete pools of shit. Now they're all selling and The Fly told them to avoid these pitfalls.
"Don't buy on Fridays into cataclysm" is what I always tell my kids.
The fact that TLT has now outperformed the SPY on all time frames short of 5 years is something to behold.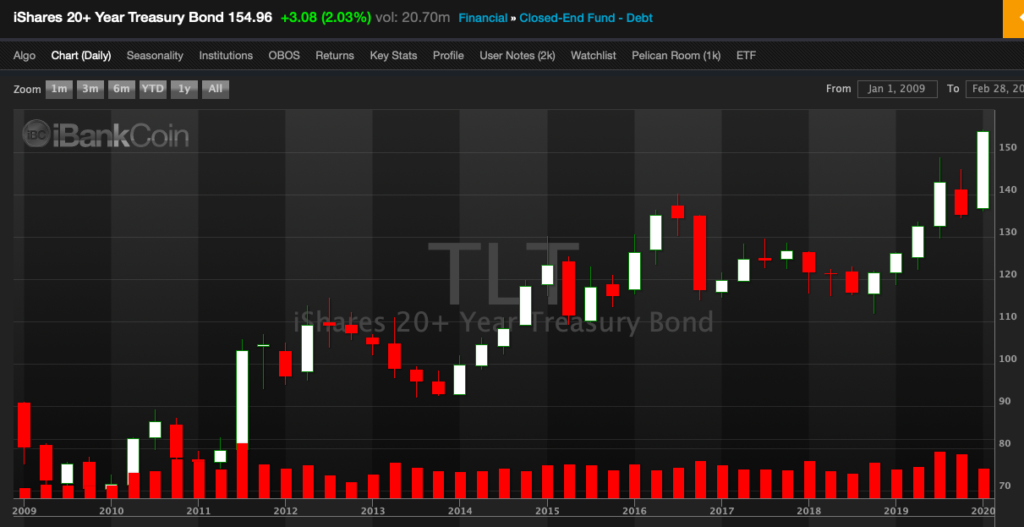 So where do we go from here?
I sold out of the balance of my virus stocks today, for a net win — the latter sales being somewhat fucked. But I had to get out in order to wipe the slate clean.
IBIO +132%
OPGN +83%
VIVO +18%
(AEMD -15%)
(AIM -25%)
DYNT – wash
(LLIT -6.4%)
(MARK -16%)
(TEDU -19%)
Wrapping up my virus themed trades, here were the results.
NNVC +32% NNVC +319% CODX +28% CODX +61.4% VIR +25.9% INO +50% AHPI +48% NVAX +11% NVAX +28.9% APT +29.3% LAKE +17.5% LAKE +25.2% AEMD +14% LLIT +15.5% BIMI +33% DAO +14.3% NNVC +63% COCP +44% APT +48% APT +28% MRNA +14% AHPI +52% AHPI 28% CODX +37% CODX +30% LAKE +10% DAO +5.2% NVAX +15.6% NNVC +31% VXRT +95.7% TNXP +121%
Can't complain — best trading spree of my life. Is it done? Never says never. One thing is for certain, we're deeply oversold and the market is begging for a reason to rally. We probably get something on Sunday night from the Fed. Truth is, this is all unprecedented and I do not know what to expect next, other than to suggest you trade small.
95% cash now.
If you enjoy the content at iBankCoin, please follow us on Twitter