Aside from dealing with the Chinese trade war issue, Trump and Co. have to deal with WTI shooting higher to $75. However, and this should not come as a surprise to you, this is GOOD for America. Granted, you'll pay more at the pump. But at this point, because the US is such a big producer of oil, having skyrocketing WTI prices is now a net positive for the country, so fucking deal with it.
On the pressing issue of the moment, the USD/CNY cross. It appears the Chinese are out of control, devaluing the renminbi whenever they eat a snack or take a sip of tea.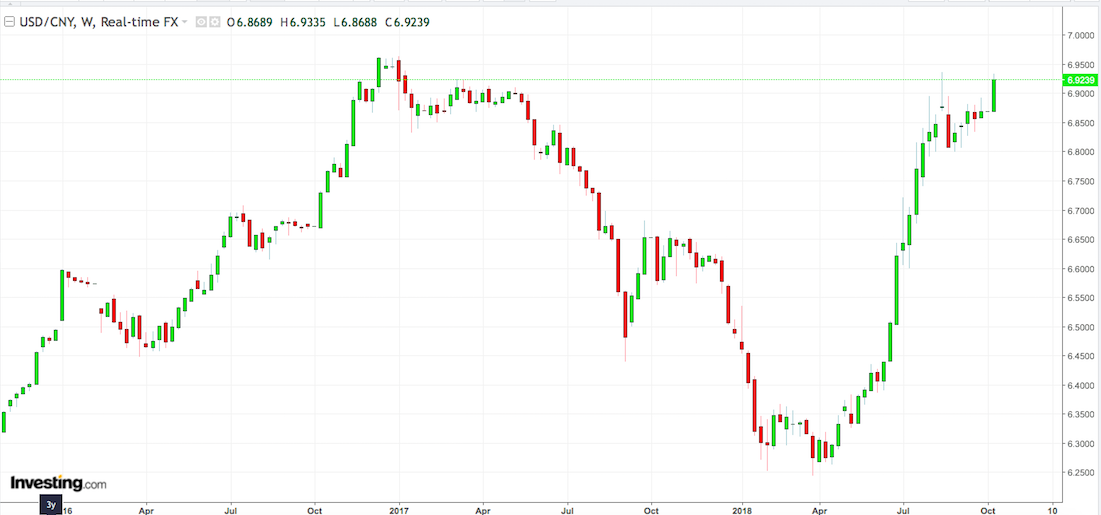 Sec. Mnuchin warned them to cut the shit out this morning.
"As we look at trade issues there is no question that we want to make sure China is not doing competitive devaluations," Mnuchin said to the media outlet. "The renminbi has depreciated significantly during the year … We are going to absolutely want to make sure that as part of any trade understanding we come to that currency has to be part of that."
I'm getting into the bearish mind here and simply laying some thing out so you can worry more.
Higher WTI
Trade war
Higher rates
Trouble in emerging markets
USD continues to strengthen
Elections loom
Did I miss anything?
If you enjoy the content at iBankCoin, please follow us on Twitter