Big drop in biotech stocks today — probably thanks to this Bernie Sanders tweet.
Medicare for All means:

? No copays
? No deductibles
? Freedom of choice in doctors and hospitals
? Coverage for every American

The function of our current system is to make billions of dollars for the insurance and drug companies. That is what instability looks like. https://t.co/CRIUJzi2xF

— Bernie Sanders (@SenSanders) April 17, 2019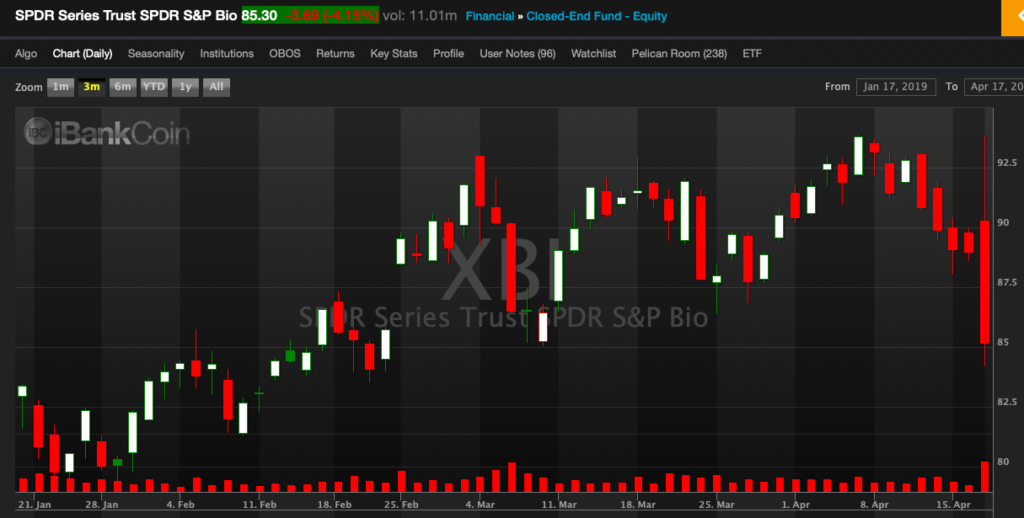 Down 4% on a nice spring day is not something to gloss over. But the truth of the matter is, Bernie will be long buried in a pine box before America reforms its healthcare system. Sure, he can talk and make a lot of noise — but no one will listen. Same thing goes for gun control. You can say stuff — but nothing will happen.
You live under the direct rule of elite families, exactly like an aristocracy. Your socialist dreams of equality and fairness are fodder, hopium for the masses to keep them at bay — just like the Mueller report kept 50% of mouth frothing fucktards at bay hoping the report to come would assuredly lock Trump and his family up for good.
We march on through the fires and nothing changes, a criminal enterprise with designs to protect an empire built upon death and theft commences.
Now go pay your $1,750 per month healthcare bill and shut the fuck up about it — else Chase bank will close your account and all of the socials will exile you for the bastard you are.
Top picks: TUFN, BE, and CPE.
If you enjoy the content at iBankCoin, please follow us on Twitter