I didn't know him in real life — but I knew him here and inside the Pelican Room, where we had great times — swashbuckling thru these markets like pirates on a ship with a motor engine and Gatling gun. Regrettably, I was informed today he succumbed to cancer yesterday, a battle that he informed us about when he was diagnosed in February of 2018. First it was lung cancer, then brain — never did he utter a word of negativity or complain about his situation. God knows, had it been me, I'd be miserable and paralyzed from fear of the future.
But DMF was a different type of man and I liked him immediately. He emailed me a few times, excited about his trading success — hoping to do it full time. For most people, trading full time is a recipe for disaster — but I really think he could've pulled it off. Anyone who saw him trade in Exodus knows how good he was.
This post is the very least that I can do for a man who gave so much to our little community here. For whatever reason, he gravitated to me and the site and was a distinguished gentleman since 2016 — crushing trades the whole time. He was definitely one of the best traders in there and his contributions and positive demeanor will be sorely missed.
He contributed nearly 2,000 comments inside Exodus (sorry about the hyper links, it's hard coded into the site whenever I write the word) — all of them professional, serious, and sometimes with a little well timed humor. If his children ever google their Dad's name, David M. Flaherty, I want them to know he was a joy to have around and was a really good man. Everyone liked him.
Here are some comments I lifted from The Pelican Room from DMF that I thought you'd enjoy. RiP David.




His last comments inside The Pelican Room.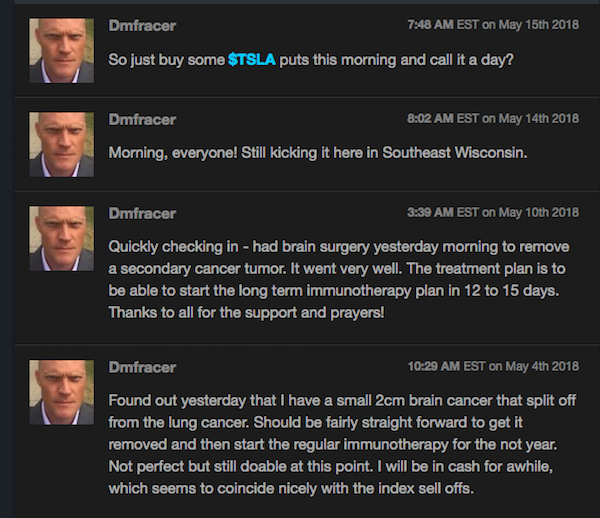 TGIR's tribute to DMFracer hits the nail on the head.

Last but not least, and this is what I'll remember him by from his time with us: HE FUCKING ESCAPED THE WRATH OF XIV and was able to avoid disaster, unlike myself and many others here.

See you on the other side brother. I hope you're enjoying some boat drinks right now.
If you enjoy the content at iBankCoin, please follow us on Twitter