I enjoy to garden and pretend that I know what I'm doing in the yard. Like most things, I am a pseudo intellectual when it comes to horticulture. I possess just enough knowledge to impress others, make myself look worldly and intelligent — when truth of the matter is I am a giant fucking fraud in the yard.
So I went out there today, in an effort to save ~$400 in landscaping fees, and attempted to hedge my bushes. My yard is about .55 acres, with about 35 trees, and lots of boxwoods (my favorite bush). I've been growing them out the past two years, in order to shape them into nice big round balls (no homo).
There I was with my electrical hedger, attached by a giant extension cord (you know where this is going) slicing away like a fucking lunatic — making a mockery of the shape called circle, when viola — I sliced right thru the live wire. Being a pseudo intellectual in electricity too, I cannot say for sure if my life was ever in peril, but I can say that the circuit breaker triggered and the live wire was about an inch away from roasting me to a cinder.
After the scare, I got a new cord and continued to Edward Scissorhand my way thru the yard, pretending to create art, when in fact I was doing nothing but creating a mess and making my landscaping looking like some fucking retard took garden scissors to it in a rage of autism.
Now my hands are literally vibrating from the experience, my boxwoods are oblong, and I'm out my favorite long extension wire, which I usually employ during Xmas decorations.
Here are the top/worst performing sectors in Exodus YTD. Any surprises?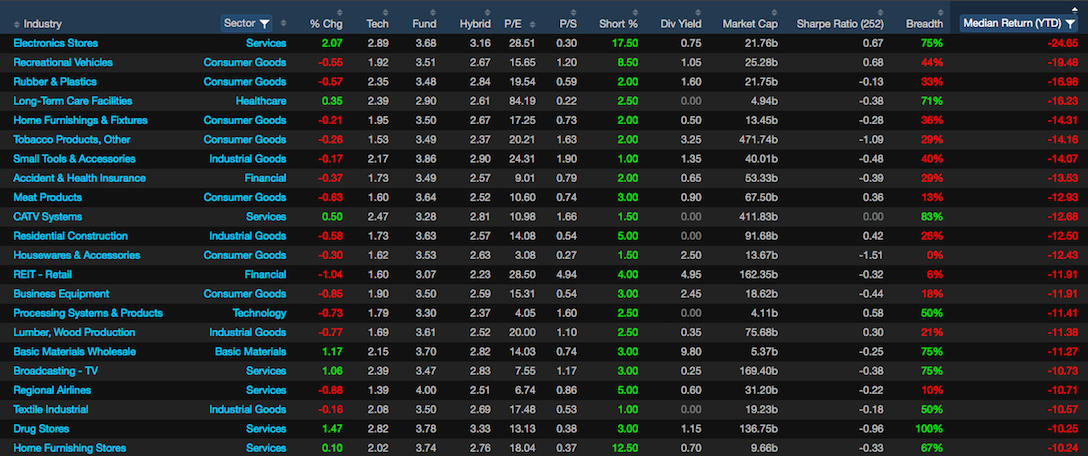 If you enjoy the content at iBankCoin, please follow us on Twitter