I hate to disrupt your great big wonderful market rollercoaster — but it appears the anti-war Trump regime is greatly escalating the war in Syria — after years of failed attempts to remove Assad from Syria via their proxies (Syrian MUH rebels, ISIS, etc.)
Now, US airstrikes are taking out Russian military contractors.
This coming from the Moscow Times, a statement from a Russian contractor in Syria hit by US air raids.
"One [unit] is practically totally destroyed, and the second is smashed 'to smithereens,'' he wrote in a post on the Vkontakte social network on Thursday, citing an unnamed source.
In total, US strikes killed ~100 Syrian troops, including Russian contractors, in a 'self-defense' operation due to Syrian government forces attempting to expel US backed terrorists from the country.
A U.S airstrike killed about 100 Syrian troops after they launched an "unprovoked" attack against a military base used by American-led coalition forces battling the Islamic State in eastern Syria, the U.S. military said.

U.S. Central Command said the strikes were launched in self-defense after as many as 500 attackers began what appeared to be a coordinated assault on the headquarters of the U.S.-backed Syrian Democratic Forces.

Syria's official state-run news agency SANA confirmed the deaths Thursday and labeled the strike an "aggression" and "new massacre."

While SANA insisted the pro-government troops were battling Islamic State fighters, it also admitted to launching an assault on the Syrian Democratic Forces, a Kurdish-led group opposed to Syrian President Bashar Assad.

The U.S. involvement is a rare example of U.S. forces striking directly at Syrian regime troops. In June, a U.S. fighter jet shot down a Syrian warplane after it bombed U.S.-backed fighters.

It also comes as battlefields in Syria have become more tangled amid military interventions from nations such as Turkey, which oppose the Kurds.

Russia's foreign ministry meanwhile claimed Thursday that the U.S. airstrike on pro-Assad troops reflected Washington's attempts to seize Syrian economic assets. Russia is a close ally of Assad and is helping the government bomb rebel-held targets. There was no immediate reaction from Washington over Moscow's allegation.

At least 19 civilians, including a medic and children, were killed in Syrian government strikes on opposition-held territory near the capital Damascus on Thursday, activists said.
And today, Israel joined the fun — after what they said was an incursion by an Iranian drone into Israeli airspace. They retaliated and bombed the shit out of the Iranian outposts in Syria — which resulted in a downed Israeli F-16. After that happened, they went in and bombed some more — which is now being described as the largest escalation between Israel and Syria in decades.
For more coverage.
PM Netanyahu statement.
Here's the buzz on Twitter.
Huge story breaking this morning as #IDF intercepts an Iranian drone in #Israel's airspace from #Syria. In response, Iranian command position in Syria was targeted. Sirens were activated in northern #Israel following Syrian anti-aircraft missiles fired at IAF. pic.twitter.com/WPevYI1Lk9

— LTC (R) Peter Lerner (@LTCPeterLerner) February 10, 2018
While you slept: Iran flies a drone into Israeli airspace. Israel shoots it down and the situation escalates. Thank goodness for that Iran deal. It's really led those moderates in Iran to pursue peace. https://t.co/fB9GB0Sunh

— Ari Fleischer (@AriFleischer) February 10, 2018
Israeli airstrikes on Syria the biggest operation in over 30yrs – Air Force https://t.co/d46zH0LIsB

— RT (@RT_com) February 10, 2018
#Syria has been invaded by Turkey, the US and Israel, while at the same time has thousands of Islamist fighters and Jihadists on its soil, murdering, raping and pillaging. Yet, despite all of that, Syria is winning. What a country Syria is and what a people the Syrians are!

— Dr Marcus Papadopoulos (@DrMarcusP) February 10, 2018
"The United States wants to keep Syria weak and poor" @joshua_landis
#F24Debate @France24_en #syria #russia #UnitedStates #ChemicalWeapons #ForeignPolicy pic.twitter.com/d2a39c5mLW

— FRANCE 24 Debate (@F24Debate) February 7, 2018
Syrian civil war

Israel vs Iran
Israel vs Syria
Turkey vs Kurds
US with Kurds
US vs Russia
US vs Syria
US vs Iran
US vs ISIS
US vs + with Turkey
Kurds vs ISIS
Rebels vs Assad
ISIS vs rebels
+more

Maybe we should start calling it Syrian civil WARS. https://t.co/pwp1bhkoDP

— Richard Engel (@RichardEngel) February 10, 2018
Russian statement.
#Moscow concerned about escalation in #Syria after #Israeli attacks. Calls for restraint.

"We urge all sides to exercise restraint and to avoid any actions that could lead to an even greater complication of the situation." – said Russian Foreign Ministry in a statement pic.twitter.com/jUeFIapTxC

— Geostrategic Media (@Geostrat_ME) February 10, 2018
UPDATE: Apparently, it wasn't Russian equipment.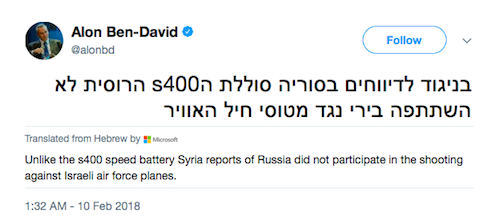 If you enjoy the content at iBankCoin, please follow us on Twitter