I was out all day looking at office space, becoming increasingly annoyed at each meeting. Some of these places were nice, albeit a bit pricey. But others were god awful and I'd first be caught dead in them, rather than have to work there. There is never an excuse to work from a place that smells like cats or deprecating wood.
The Nasdaq ripped higher by 77, but breadth was weak. The main players went higher and the hubris is indeed strong in the comments section. Part of that hubris isn't pure, however, as I suspect a great many of you don't even own stocks — but come here to play Gordon Gekko. I am amused, believe me (extra Trump) and look forward to hearing from all of you in the future.
iBC used to be a dark place run by a dictator who stifled freedom of speech. But now, well now, it belongs to you — the people. Do as you like — all are welcomed.
Two things went right for me today, actually 3.
HMNY continues to improve.
UCTT is back in lock step with other OLED plays: COHR and OLED.
VUZI, AAL and FIZZ are manifesting higher.
My position in DRIP wasn't hit today — because oil has already topped. My biotech short, LABD, barely budged and NVDA/BAC shorts performed admirably amidst the melt up. Only two instruments did poorly, VERI and UVXY — the latter being obvious — a VIXTITS instrument. But the former, that was my error. I watched a 30% gain turn into a small loss. There is never an excuse for that brand of carelessness.
I'm nearly done editing part two of my book: Journey into Fear.
Here is a snippet.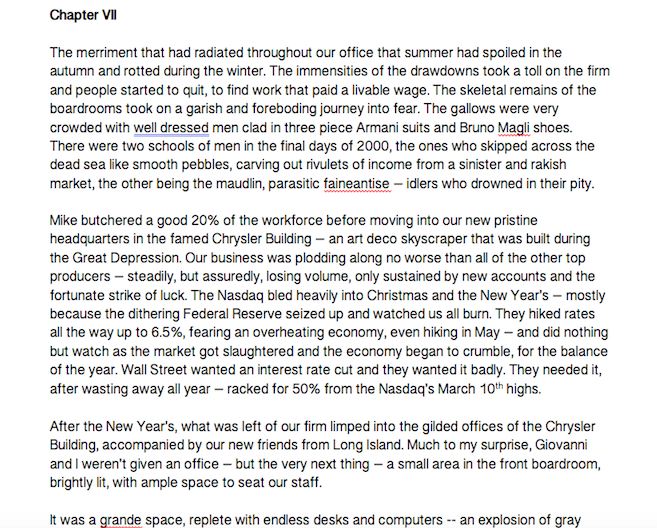 If you enjoy the content at iBankCoin, please follow us on Twitter