When we launched iBankCoin roughly 10 years ago, I was 31 years old. At 31, I behaved like a 20 year old drunk with success — shitposting on the internet — euphoric about the idea of having an audience to talk to each and every day about my stock ideas. We had some good times. Coming to the site has always been therapeutic for me, through all of my ups and downs — this was a constant. Although I am quite garrulous on here and I impart tidbits of my life here and there, I am mostly guarded with the details of my life. I think it's better that way.
There are several things that I love to do in life, two are investing and writing about it. One of my passions in finance has been to create tools that will help self directed investors and advisors make better decisions for themselves. Yadda, yadda, yadda. You know the pitch.
As some of you read in The Option Addict's comments section, Jeff is likely to play a limited role in blogging here in the future. He will, however, continue to service the After Hour's Trading Service. He just launched his own fund, which was a life long dream of his, and wants to give it his all. Why the heck not?
A few things about Jeff.
He's one of the best, if not the best, traders I've ever met. I will always remember our time in Vegas, when Jeff lost $300 in like 2 minutes flat to a snarky dealer at the Encore, just like Chevy Chase in Las Vegas vacation, and of course The Yale Club, where we enjoyed a magnificent spread in the nightcap gathering in the famed library room. I've been blessed to have such a rare talent at the site for all of these years. I wish him the very best and he's always welcome here. The blog will remain open.
Back in June, I bought out the co-founder of iBankCoin — Jeremy, aka Vincenzo Illuminati. It was time for young Jeremy to head out into the world and make his mark. Although iBC is great — it kept young Jeremy a prisoner in his home, working off site, and was somewhat monotonous, not exactly conducive with leading a productive life. Since then, I've retained the services of our long term partner Cypress North and am still in search of dedicated tech for the site.
Over the years, we've gone through numerous changes at the site. If you recall, we started off with just me, Danny and Woodshedder, then quickly brought on Ragin Cajun — who is still with us today. On the matter of RC, he bought some of Jeremy's stake in the buyout and is one of the best persons I've ever had the pleasure of knowing.
On the contrary, there have been so many fucking bastards come and go on this site, many of whom I had to fire, or foist onto other site's. Granted, much of the discord might've been due to a much younger, energy soda'd up asshole of a boss, presiding over the site like it was his personal fiefdom. But I've changed since then, calmed down a bit, took the time to explore the world, intellectually.
My dream for the site has always been to have it survive for generations. Like the Pope, I will one day pass on the mantle of The Fly to someone else, who is young, deserving, and hopped up on speed. One thousand years hence, Fly XIII will blog via his Orbital Space Cannon (OSC), wishing all inter-planetary beings a merry Friday the 13th.
Starting November, heading into our 10th anniversary, I am going to launch some new blogs, from some fresh and familiar faces. I am tying to convince Jeff Macke to return; but it's hard to negotiate with crazy genius. There are a few others I want on the site, one of whom recently agreed. But I'd also like to hear from some of you, lowly readers out there in the wind, sad and alone, afraid of the winter winds to come. Maybe you can be Fly II, Pope of iBankCoin when I decide to walk away. Email me ([email protected] if you want a shot at blogging greatness and I will decide if you're worthwhile. You might have to give me a massage while I am naked (extra Harvey).
Since inception, here are the top 10 traffic leaders in iBC history.
Fly 23 million
ChessnWine 4.4 million (he abandoned us)
Option Addict 3.5 million
Ragin Cajun 2.4 million
News (Greenwriter/Cronkite) 1.9 million (he's now a NYC chef)
ZeropointNow 1.6 million (the natural)
Chart Addict 1.3 million (foisted)
Woodshedder 1.05 million (left to run his wife's sweatshop)
Jakegint 682,000 (too busy to care anymore)
Raul 570,000 (is anyone more loyal than Raul? I think not)
Scott Bleier 500,000 (my favorite CNBC personality back in the day. I miss him here)
Cain Thaler 356,000 (he's all grown up now, family, career etc)
Danny 350,000 (he's a serious CFA now)
Gio 286,000 (this man remains a mystery. We met once in NYC and he soon after stopped blogging)
Bluestar 260,000 (just launched his own fund)
Alphadawg 177,000 (no idea what happened to him)
Jeff Macke 165,000 (hoping he'll come back to crush Alphadawg)
Rhino 105,000 (married now)
Looking back at some old posts, I see that I gave Trump an Asshat of the Month award back in '07. He might be due for another one.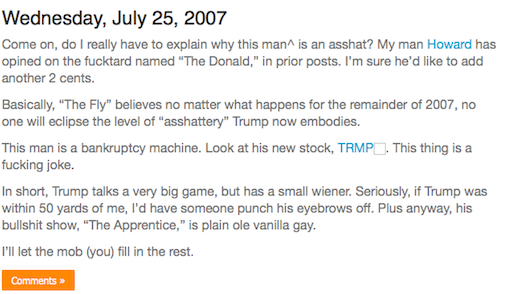 And now he's President.
And here was my launch post. I had tricked people into thinking I was going to stop blogging. This was at my old website, FlyonWallStreet.blogspot. The whole time, Jeremy and I were scheming a new site. It was hideous looking, but it was fun. Here was my inaugural post and video, which was edited by Danny.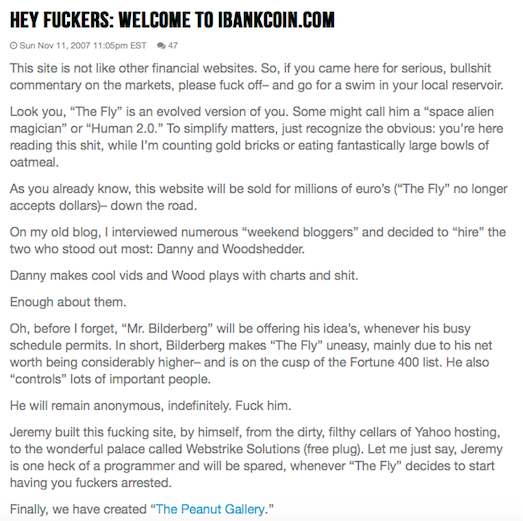 If you enjoy the content at iBankCoin, please follow us on Twitter