Any of you supreme faggots into numerology? Apparently, it's a bad omen to be forsaken with a Friday the 13th during the month of October. Satanic shit is about to pop off — Harvey Weinstein — Sonoma is burning style.
WTI is higher by 2% this morning. There is some serious strength in crude as of late. It's notable.
What's also notable is the faggot nature of all the bitcoiners, jerking each other off on Twitter. BTC is higher by another 3% to 5,600 and ETH is higher by 7.5%.
European markets are flat and Nasdaq futs are +4.
Here are some of the early movers.
TOPS +60.6%, ITEK +26.8%, EXFO +13.6%, TSE +8%, ZN +6.5%, EFX +2.2%, TWX +2.1%, HPQ +1.1%, NEO +0.8%, REVG +0.7%, BAC +0.5%

ATRS -39.7%, TNDM -27.6%, AAOI -20.9%, ECYT -9.3%, HMNY -7.6%, NANO -5.8%, SGH -4.8%, OPNT -4.5%, NPTN -4.1%, BTX -4%, FNSR -2.6%, ANAB -2.3%, ACIA -2.2%, OCLR -1.9%, SNCR -1.5%, PTEN -1.4%, LITE -1.3%, DISH -1.1%, EXAC -1.1%, AXTI -0.5%
Analyst refuse.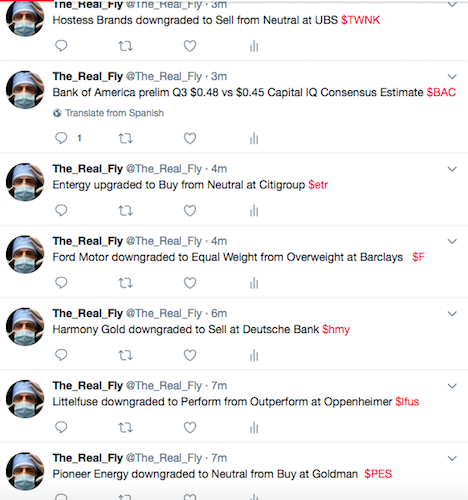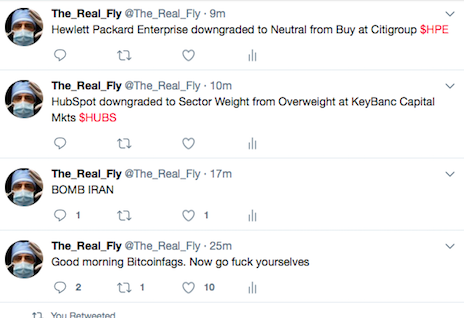 And…Trump killed Obamacare, without congress.
The payments reimburse insurers for discounts in health costs offered to low- and middle-income Obamacare customers.
Insurers were projected to receive $10 billion in subsidies in 2018.
Some premiums for 2018 are already higher because insurers feared the Trump administration would end the payments.
Top of the morning to you.
If you enjoy the content at iBankCoin, please follow us on Twitter