Twitter has gotten so bad, I'm afraid to tell people to fuck themselves these days. Just a few short years ago, I could blaze through Twitter telling everyone to 'fuck off' in a demonstration of true victory, now I'm forced to step on egg shells, kindly asking people to 'simmer down' and to respectfully 'jog on.'
Rose McGowan is an outspoken actress against the pervert Harvey Weinstein, because she was victimized by him. Now Twitter shut her the fuck down for stirring up trouble. Good job @Jack.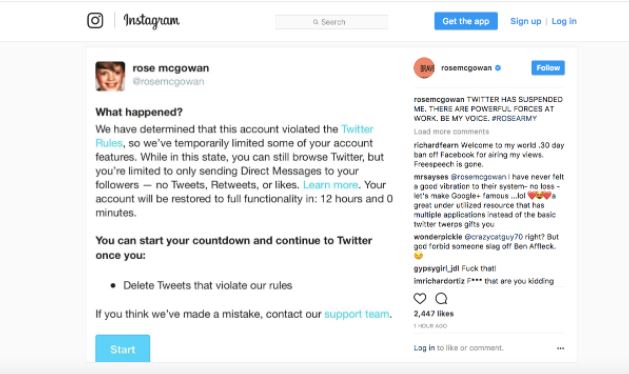 Her most recent adventures was into outing Benjamin Affleck was being A FUCKING ASSHOLE.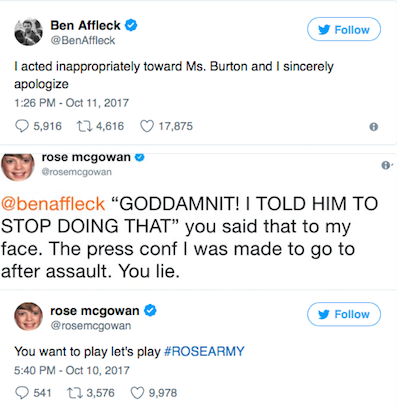 WTI is off 1.5% — but gold is higher by 0.7%, so everything is just in the world. Bitcoin is higher by 8%, now above $5,200. Fred Wilson must be pleased. Nasdaq futs are -8. I really need to circle back to Bitcoin and not gloss this over. The type of returns being enjoyed in the cryptos makes stocks looks like CDs. This shit is out of control and crazy. There I said it.
HMNY increased their stake in Moviepass to 53.7%.
The co announced that, since August 15, 2017, it has received aggregate gross cash proceeds of approximately $12.8 million from the holder of its senior secured convertible notes, thereby satisfying the $10 million financing condition to HMNY's pending acquisition of a majority stake in MoviePass, which was announced in August 2017. HMNY also announced that it has agreed to increase the purchase price for its stake in MoviePass from $27 million to $28.5 million, which will increase its ownership stake in MoviePass from 53% to 53.71% upon the closing of the transaction. HMNY agreed to make the additional $1.5 million investment in MoviePass for an additional 0.71% ownership stake based on an agreed $210 million pre-money valuation of MoviePass.

In conjunction with the additional investment, MoviePass also granted HMNY an option to purchase additional shares of MoviePass common stock for $20 million in cash based on the agreed $210 million pre-money valuation of MoviePass, pursuant to an option agreement, which, if exercised in full, would amount to an additional 8.7% ownership stake in MoviePass as of the date of the option agreement. If HMNY were to exercise the option in full prior to the closing of the transaction, its total ownership stake in MoviePass would be 62.41% as of the date of the option agreement.

In connection with increasing its investment commitment to MoviePass, HMNY provided $6.5 million in cash to MoviePass on October 6, 2017, consisting of an advance payment of $5 million that would have otherwise been due within 90 days after closing the acquisition transaction with MoviePass plus the additional $1.5 million investment amount, for which HMNY received an amended and restated convertible promissory note of MoviePass in the amount of $11.5 million, which superseded and replaced the $5 million convertible promissory note issued by MoviePass to HMNY on August 18, 2017.
Some other notable headlines:
Citigroup prelim Q3 $1.42 vs $1.30 Capital IQ Consensus Estimate; revs $18.2 bln vs $17.87 bln Capital IQ Consensus Estimate
Domino's Pizza prelim Q3 $1.27 vs $1.23 Capital IQ Consensus Estimate; revs $643.6 mln vs $627.85 mln Capital IQ Consensus Estimate
Netflix target raised to $230 at Stifel ahead of earnings
JPMorgan Chase beats by $0.10, beats on revs; Reaffirms 2017 Outlook, narrows NCO expectations
Transocean upgraded to Buy from Neutral at Citigroup
Wal-Mart removed from Conviction Buy List at Goldman
If you enjoy the content at iBankCoin, please follow us on Twitter