Look at the growth of AAOI.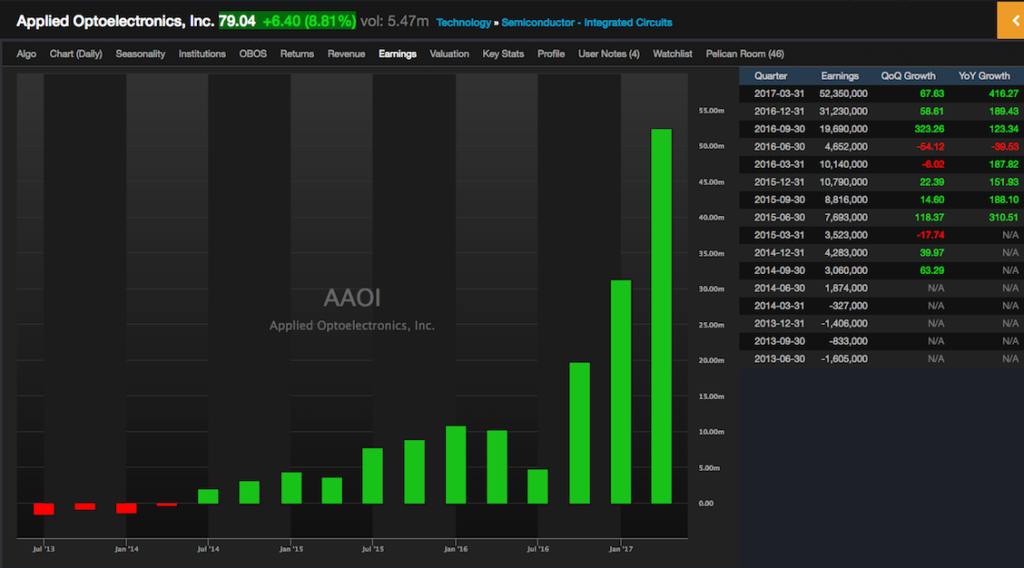 The company is smoking on all cylinders, benefitting from the ramp up of datacenters (cloud computing) by Google, Amazon, Microsoft, Facebook and others.
This shift from personal computer storage to centralized hubs have given rise to stocks like AAOI, ANET, LITE, MTSI, even NVDA. Another laser play, which has some exposure to fiber, COHR, has gone verticle the past year.
For me, this is very reminiscent of the great fiber rollout in the late 90s. I was one of those fiberfags who thought the buildout would last forever. But it was predicated upon financing that was begotten by the rise of expensive stock valuations. When the market collapsed, so did the construction projects and eventually the excitement around the fiber optic sector. After the dust had settled, it was the most reviled industry in all of mankind — claiming the fortunes and hopes of millions.
This time around, the datacenter buildouts are being done by self funded, rich, companies, so this isn't an apples to apples comparison. Truth be told, I'm fairly certain the rally in these stocks has room to go. This will be the #1 momentum story of 2017, after it's all said and done. Most people merely see the tickers and don't really understand what's going on. We're shifting from a 40g to 100g world, with it comes higher margins.
The risks are obvious. These companies are making bank off a select few companies, which leaves them exposed to customer concentration risks. Also, being that Amazon is such a large customer, it would not surprise me to see them pull an Apple on their vendors, squeezing them to reduce costs and get better deals.
Either way, this is the most exciting thing to hit tech since we were breaking apart iPhones to see who made the chips. Stocks like ZAYO, FNSR, OCLR, ACIA and IPHI have been struggling, as of late. Maybe time to buy dips? I built a watchlist inside Exodus to track these companies and will be watching how this narrative develops, ever so quietly.
If you enjoy the content at iBankCoin, please follow us on Twitter