Our mean reversion algorithms are suggesting the Nasdaq is oversold here. The last signal was on Thursday, which resulted in an immediate bounce. Over a 10 day holding period, the track record for this signal is flawless.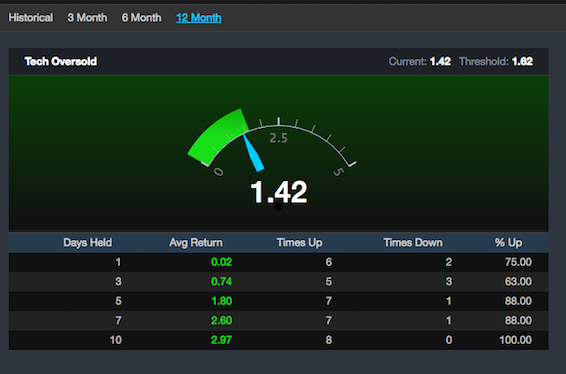 Before heading out and buying FAANG stocks, consider the shallowness of this sell off. Our oversold signals are intuitive and adjust over time to conform with different markets. Today's Nasdaq is nothing like what we saw in 2010. I can illustrate this for you with the next chart, which is the tech sector's oscillator dating back to 2009. This is the overbought/oversold mechanism in a visual format.

As you can see, today's oversold signal is very shallow and would never even be close to oversold just a few years ago. But this is the market we're living in now. To act on this, your core thesis must be that status quo will remain intact and we're heading back higher — as has been the case, almost uninterrupted, since November.
Check out the new Exodus landing page.
If you enjoy the content at iBankCoin, please follow us on Twitter