Biotech stocks are gambling higher, just like the old days. You folks remember how those fuckers would scream higher in 2015, early 2016, before the bitch and the orange man started menacing them with their words? Ah, it was great. You could simply walk into work, copy and paste the portfolio of Baker Bros or glean into the genius of RANDALL 'fucking' KIRK and make a bundle.
But ever since that fucker, Martin Shkreli, got busted acting a fool with drug prices, the industry has been beset by political pressures. After all, Americans want cheap healthcare and they want the best. That's a difficult thing to do. Look at Canada. They have free healthcare, but their doctors are retards. You'd be better off taking out your own appendix than having a Canadian doctor remove it for you.
Look at them run. I feel like a proud parent of a career bronze medalist who accidentally tripped into first place.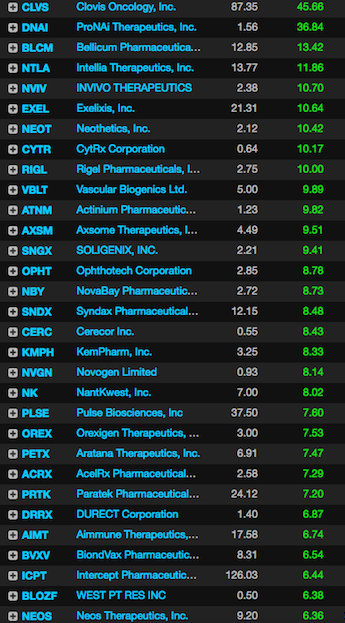 And here is the Exodus oscillator, showing the drugs are most OB since January of 2017. I'm sure it'll be fine. Keep buying.

I've always said, there are simply two ways to get rich quick in the market.
Buy a distressed stock and ride it back up.
Buy a biotech, like CLVS, before phase 3 data is released.
The reason why biotechs are such great stocks is that private equity hasn't figured out a way, yet, to hog all of the gains for themselves. For a biotech to truly be successful, the science has to work and the trials take a lot of time and money. Most private equities are drug addled misfits, who'd rather invest 'in the next Snapchat', criminally running up the valuation and declaring it gold only to cash out on an unsuspecting and low information public — who, incidentally, finance their criminal behavior so that it could be repeated.
If you enjoy the content at iBankCoin, please follow us on Twitter