I'm not a huge fan of "The_Donald" because there's a lot of fucked group think taking place there. However, since 99% of Reddit is one gigantic faggot cesspool of left leaning retards, the least Reddit could do it allow the 400,000 Donald shills have fun in their echo chamber. Apparently, for the cannibal who runs Reddit, one conservative subreddit is one too many.
The_Donald is now offline, leaving a message which states:
At 8:41pm ET on 5/19/2017, Reddit Admins removed three The_Donald mods without warning. This was punishment for our refusal to comply to a special set of rules that were imposed only on this subreddit and prevented our members from fully enjoying reddit or our mods from defending users against harassment.

We are temporarily private in a show of strength against these unfair restrictions. Check back in at 12 am ET for more info.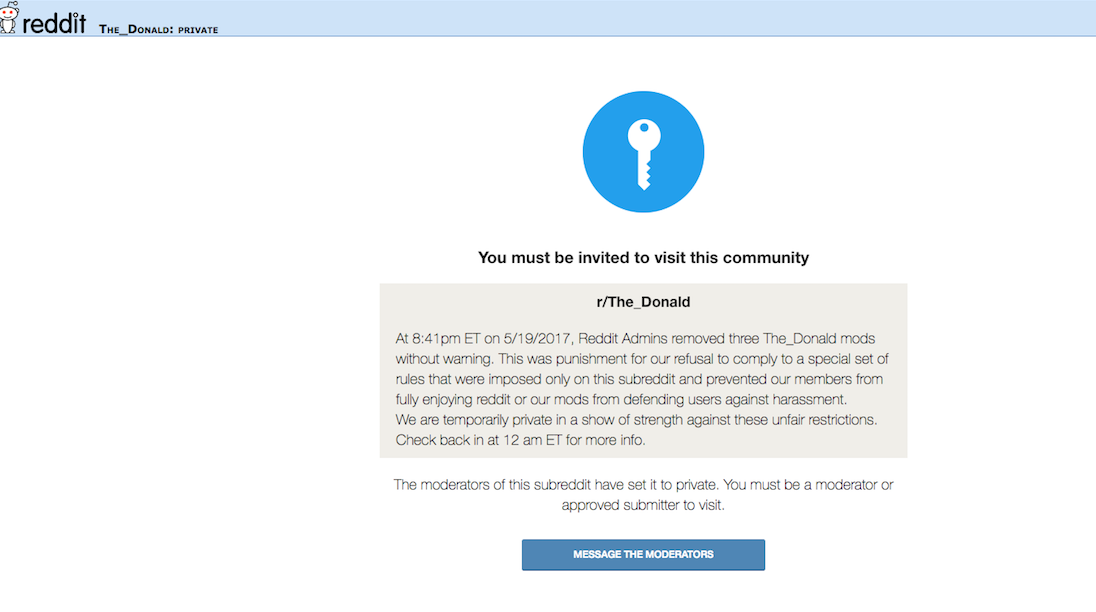 The people who run The_Donald subreddit cannot win and should be working towards moving that community to another website. Although Reddit is a terrific place to siphon information and traffic, it is a shit hole of corporate control. Some believe the recent actions taken against The_Donald have everything to do with the Seth Rich murder investigation, which has been talked about on the forum Ad nauseam — pointing fingers at Hillary and the DNC for his death.
If you enjoy the content at iBankCoin, please follow us on Twitter