Brazil might have an actual Presidential scandal, which is lighting their index on fire now — off by a staggering 11%. How are your BRIC trades working out? US markets are shrugging off all bad news, whether it be a horrendous CSCO warning, Trump in turmoil, a rancid China Unicom cooking the books, plunging copper. It does not matter. Cognitive dissonance is a very powerful mentality, especially amongst the beta amongst us.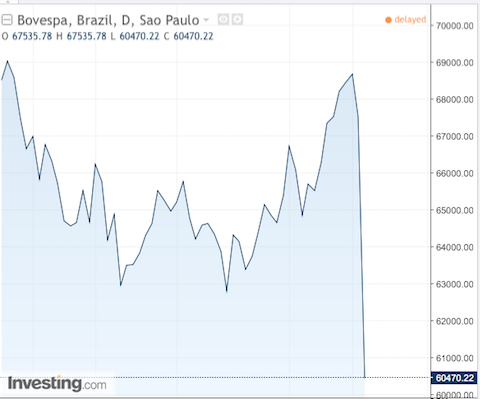 Bovespa, clown-raped
Following a 370 point drubbing, one should expect an attempt to bounce here. Traders are accustomed to making money on dips, so it would not surprise me to see it attempted now. But at some point along this winding road, fundamentals will matter.
All that aside, the model that I've assembled takes the emotion out of my decision making process. Ergo, if stocks deserve to be bought, I will buy them. I am chasing alpha, but have given myself an out by buying hedges in TLT and GLD when the numbers demand it. As of last Friday, the numbers demanded it.
Whether Trump gets impeached or not is immaterial to the bear case being talked about on Wall Street now. The worry is the economy and all of the stimulus that was supposed to happen looking grim with all of these distractions. Plus, the NASDAQ is higher by 11% YTD predicated on some sort of reflationary lift. Should things continue to spiral lower for Trump, coupled with seasonal factors, markets will get shredded to pieces this summer.
If you enjoy the content at iBankCoin, please follow us on Twitter