MAY YOU HAVE A BLACK CHRISTMAS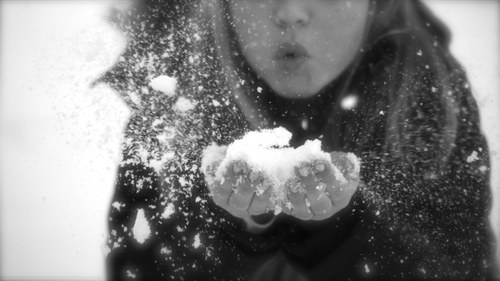 "The Fly" would like to wish all of you joyous pagan holidays. Enjoy the fireside tonight, getting drunk with distant relatives, sharing "war stories" when you were maxing out your credit cards at bacteria laden shopping malls, fighting people to get Timmy his favourite first person shooter video game. As you sip on egg nog, saturated with 200% fat, sure to give you a coronary, please remember the less fortunate, the one's who weren't born into our great pagan religion.
If it snows tonight and the ground is slippery, take tomorrow off and do not remove your Christmas lights, for you're more likely to fall off your little giant and break your neck in half, than accomplish your goals to undress your gutters as quickly as humanly possible.
"The Fly" will be spending his holiday– just like you– dressed in sweater, slacks and tie. I will dine on seafood and roasted beef, washing it down with red grape, watching the little Timmys open up his presents, carelessly tossing the wrapping paper aside like a savage animals.
Family members, all bankrupted in their own right, will gather around the fireside and rejoice and bathe in the glory that is Santa Claus. Following pictures, "The Fly" will grab a 4 litre bottle of Coca-Cola, the inventor of Christmas, and shake it like a can of paint, then open and spray it on every person in attendance, especially the older folks.
Especially the older folks.
If you're a loyal reader of iBankCoin, may you and yours have a very black Christmas and be sure to visit this week, for I will be publishing 2013 predictions, year end review and other small tales that are sure to delight, frighten and amaze.
Previous Posts by The Fly
38 Responses to MAY YOU HAVE A BLACK CHRISTMAS
Merry Christmas
https://www.youtube.com/watch?v=4dGOfFbzvq4
Merry X-mas Senor!
You seem the type to favor suckling pig on a spit for Christmas.
No pork on my fork, except for breakfast meats and whenever I care to eat a hammed sandwich.
I love the Little Giant.
It's that time of year when I must re-post The White Swan's X-Mas joke http://www.youtube.com/watch?v=F-cXvZe2oC0&feature=share&list=LLH5_yZY__lQVcmKeJ-3dPig
lol. That was good. That's my boy. Love Swan.
Fly and all those who visit IBC,
May you all have a very Merry Christmas and nothing but good fortune in the coming New Year!!!
Thanks Bill and thank you for reading me from day 1.
Merry Christmas, Dr. Fly. Please do have the cameras running during the spraying of the 4-liter bottle. Not only would that make an awesome Christmas-time video, but perhaps would draw the attention and gratitude of the Coca-Cola company, who would ask to become a new advertiser on iBC.
Epic!
Merry Xmas to you and yours, Fly.
I hope they are better than your 2012 predictions:
-BAC will file bankruptcy
-Most large European banks will collapse, alongside the fucking euro.
-Bank runs will become all the rage in Europe.
-The first half of 2012 will be mired with an astounding 35% loss in the S&P 500.
-The market will stabilize during the summer months, post collapse. However, renewed panic will present itself in the fall.
-QE3 will be enacted in early 2012. The initial response will be positive, then fade.
-TLT will trade north of $200.
-In late 2012, signs of a Japanese debt crisis will emerge.
-The European Union will collapse, alongside the euro.
-The VIX will trade up to $100.
-FAZ will zoom.
-Facebook will withdraw its IPO.
-The United States will begin armed conflicts in both Syria and Iran.
-Oil will fall to $60
-Gold will fall to $1,200, then soar to $2,100
Enjoy Your Christmas as We wait patiently for next years shockers.
Giethner Grows a Beard?
I don't know your name but I enjoy your writings and I've made (and lost) a few bucks following your thoughts so I hope you and your family have a good holiday.
Jan
Sir Fly,
The best to you and your family.
Thanks for all the merriment and cheer and great trading ideas you have passed along this year!
Fly, quite frankly you were far too reckless in 2012; you should've made a better effort to protect your gains of mid-year.
Seasonal greetings.
Thanks for telling me what I already know. I hope santa sticks a candy cane in your windpipe this evening.
That could imply up his ass!
First a very Merry Christmas to my partner from Alberta, Canada, who first introduced me to The Fly almost four years ago. I would have e-mails sent to me with your blogs attached, Fly, and an apology alongside it for all of the swearing. Hey, Mr. Partridge, our partnership is one sure fine! Merry Christmas to all of the fine bloggers at ibankcoin, you're the best there is!
Thanks Partner and Merry Christmas to you!
Dr,
Happy Holidays to you and yours!
You do have the best financial blog site out-there, all the best to you and all the other Ibankcoin bloggers in the New Year!
Mr. P
Merry Christmas to all of my gentile friends at iBC and Steve,Jr. sends thanks to neighbor Fly for letting him park the cars when the Fly relatives make an appearance to pay homage.
Steve, Jr. needs the tips for space camp.
Here's hoping you appreciate your Pal and offspring for this and many more seasons to come. Thanks for the posts, the site, and some eclectic, honest writing.
merry christmas to all, should you feel the need to spray your guest with 4 liter plastic container, use diet coke, it dont get sticky . god bless.
Merry Christmas Fly!
a blessed and merry cokemas to you and your lovely family, sir fly
Merry Christmas to you Mr Maximus. We shall discuss the proper payback in the new year.
Touching, heart stopping, passionate and fetchingly thoughtless.
Merry Xmas to all of you. Especially love the song with it. Motivation music for 2013 fa sho.
Merry Xmas to everyone at IBC. I just ate 2 large size brownies, compliments of our neighbor. Can't wait till I can feel my abs again.. Back to wrapping presents and A Christmas Story.
Merry Christmas to all, especially to one of the most generous and talented writers on these here totally ghey internets.
"Predictions are hard, especially about the future." Yogi Berra
Best of Luck in '13!
"bacteria laden shopping malls"
LOL are you going thru some sort of Howard Hughes thing.
Nice post Fly …Happy Holidays to you and the great IBC community.