Some people scoff at anecdotal evidence; I embrace it. If you paid close attention to grocery store trends, you would have caught Hansen Natural Corporation [[HANS]] before the monster move up—pun intended. Over the years, there have been countless winners in the food/beverage category, most of which have been acquired by food/beverage giants, like PepsiCo, Inc. [[PEP]] , The Coca-Cola Company [[KO]] or Kraft Foods Inc. [[KFT]] already. I am kicking myself for not paying attention to the coffee isle at the grocery store. I blame my ignorance on Mrs. Fly's insistence on shopping "organic" at Whole Foods Market, Inc. [[WFMI]] . In order to stay in tune with the proletariat, it's essential to eat their food, even if it shaves years off your life expectancy and gives you cancer.
What do I speak of?

The K-Cup.
Many of you are familiar with "The K-Cup," made by Keurig, which is a wholly owned subsidiary of Green Mountain Coffee Roasters Inc. [[GMCR]] . However, what you don't realize is how popular this thing is becoming. They are selling the K-Cup everywhere, from [[LOW]] to Wal-Mart Stores, Inc. [[WMT]] to your local grocery store. And, many of the big coffee vendors are producing single cup servings, that can only be used in the Keurig. Do you follow me?
Green Mountain Coffee Roasters Inc. [[GMCR]] has created a monster brand, not only owning the hardware, but they also sell Tully's coffee an their own brand Green Mountain Coffee too (both supply K-Cup lovers with great coffee).Mark my words, soon enough, Starbucks Corporation [[SBUX]] and Dunkin' Donuts will produce single cup coffee (for the Keurig). Other publicly traded companies that make single cup coffee are [[DDRX]] and [[CBOU]] . Other non-K-Cup producers worth watching, in the event they get smart, are [[FARM]] , The J.M. Smucker Company [[SJM]] (Folgers) and of course [[SBUX]].
As you know, [[PEET]] just acquired [[DDRX]] (K-Cup producer) . As a result, it is likely that [[PEET]] will enter the single cup coffee market in a big way, being the biggest retailer of coffee on the west coast, with 32% market share.
For every K-Cup sold, Green Mountain Coffee Roasters Inc. [[GMCR]] makes .06. However, for every in-house  cup (Green Mountain and Tully brands) sold, they make .12. The company is enjoying upwards of 60% revenue and 120% in net earnings growth; and the stock is not expensive, based upon 2011 estimates of $2.30—which is a low estimate. In early 2010, the company will embark on a number of licensing initiatives, with Cuisinart and Jarden Corporation [[JAH]] (Mr. Coffee) to sell single cup coffee markers, using the patented Keurig technology. This market is going to explode.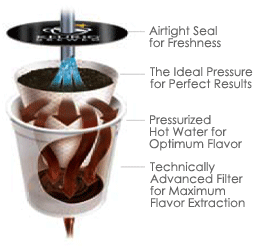 As an aside, The Hain Celestial Group, Inc. [[HAIN]] is the only company producing single cup tea for the Keurig.
At the present, the company does not have strong west coast capacity. However, it is believed that the acquisition of [[DDRX]] by [[PEET]] will pave the way for K-Cups in most of the 8,500 grocery stores [[PEET]] sells coffee in.
GMCR's coffee maker market share shot up to 17% from just 7% last year; and it will continue to rise, as other coffee makers surrender to the Keurig and enter the K-Cup market. Additionally, in 2010, a whole new wave of single cup coffee maker brands will emerge, all licensing the technology from Green Mountain Coffee Roasters Inc. [[GMCR]] .
If Starbucks Corporation [[SBUX]] was smart, they'd buy Green Mountain Coffee Roasters Inc. [[GMCR]] for $85 tomorrow; but, unfortunately for SBUX shareholders, they are not.
Clarification: Someone mentioned a competitor of the K-Cup, named Tassimo, in the comments section. [[KFT]] owns the "t-disc" and has been getting shellacked trying to compete with the K-Cup. They have lost 100's of millions trying to sell the device, to no avail. [[KFT]] is the distributor of [[SBUX]] single cup coffee for the Tassimo and other SBUX related products (the crap you buy in the grocery stores). So, the likelihood of SBUX making a K-Cup, over the short term, is somewhat limited. However, it is my belief, the K-Cup will drive the "T-Disc" out of business, effectively allowing SBUX to make K-Cups. There I said it.
If you enjoy the content at iBankCoin, please follow us on Twitter