Category Archives: Life Strategy
That guy Murphy and his stupid law.  Last evening I decided that since my daughter had been sleeping through the night, every night for an entire week (granted we, well, I am "sleep training" her), I would treat myself to a "late night", pushing sleep off until after midnight.
Lo and BEHOLD, a few minutes after 2AM I hear the sounds that only one with young children could/would recognize.  The good news: I was able to squeeze in a solid 60-70 minutes of sound sleep prior to this event.  Around 3:15 she finally settled and I had the privilege to sleep for another couple hours prior to work.
I can plow through my real work here without much deliberation or need to be completely alert.  Blogging (and writing in general), however, takes a heightened mental capacity that is often left clouded and confused when I don't get enough "shut eye".  I apologize in advance if I repeat similar phrases a few times…my brain is not currently firing on all cylinders.
The portfolio crept ahead to gain all-time highs again yesterday, for that I am happy.
Some individual notes:
As mentioned, new highs: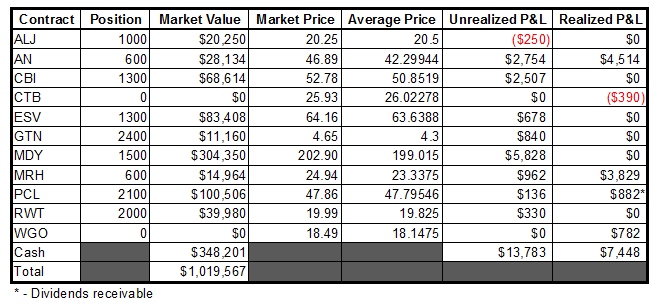 -EM
As I was washing the dishes tonight, I reminisced about what I was doing 1 year ago.
My son had just turned 1.  I had graduated in June 2011 with my Civil Engineering degree, but the job market in Portland for inexperienced CE grads was a **little** tight.  I ended up taking a shit job 25 miles away working swing shift (2:30-11).
Most of my time was spent using a beam saw, edge bander or driving a forklift.  I would reduce sheet and hardwood material into usable forms (sometimes it was cabinet parts with full edge banding, sometimes I needed to rip 3 units of 4X8 plywood sheets at 3″, other times it was cutting hardwood cabinet doors/drawer fronts to size).
The hours were tough…also my son had a proclivity for waking up at 6AM, so I was getting 5 hours of sleep pretty regularly.
Adding insult to injury, I was also a "temp".  No benefits and making a pitiful wage.  I liked the guys I worked with…you always meet some interesting people working in jobs like that.  Some people live hard lives…
Finally the day came for me to "get hired on".
This portly fellow (HR Manager) summoned me to his office and proceeded to sit me down.  Instead of commencing our meeting, he proceeded to continue working on some task on his computer and told me that he would "be right with me".  I thought that this was a peculiar development.
After sitting silently (well, I was…he was sucking on something from in between his teeth, which added a quaint ambiance to the room) for the better part of 5 minutes, we finally are able to get started…but not before walking down the hall to the conference room.
Once there he proceeds to regale me with tales of how it was a once great company, but since the financial crisis had to "cut back on some things".  Apparently two of these things they decided to do away with were: giving me a raise from my temp wage and immediately providing me with benefits (I was told that I would have to wait 4 months from my "hire date" to begin receiving benefits…which was not in congruence with what I was told when I was initially "hired").
I saw red.
I didn't hear another word for the remainder of my 25 minute meeting with this "person".  Oh, wait one…this gentleman did manage to slip in a crack about how "I was an engineer" in regard to some simple arithmetic I had to complete on a form, nice touch, FUCKFACE.  Please pardon my tenor and language.
At "lunch" my wife and I decided that it would be best for me if I just quit; thus I wrote a resignation letter that evening and left it on my boss's desk for him to retrieve in the morning.  I had nothing against the guys that I worked with, so I felt kind of bad to leave them hanging…but I'm nobody's bitch.
I had never just up and quit a job before…though the temptation had been there countless times in previous employment experiences…so it felt good.
Naturally the best thing to do when you have very little time on your hands is to trade egregiously levered positions in stocks that are going in the exact opposite direction.  I bought some BAC February 6 puts in late December…then I bought more and more and more…my cost basis was 12% of account equity.
You can see where this is going, right?
Needless to say, my 2012 was off to an ELECTRIC start…digging myself an enormous hole…one in which I would never escape from.  I scratched back to the surface in late July, but kept getting myself into egregious options positions throughout the remainder of the summer, fall and winter.  Therefore I vowed to make 2013 different.
I'm setting a very slow pace to start out.  Yes, my returns seem paltry to date, but I am also working with cash levels right around 50% and am in no hurry to "go large".  Should the market continue to climb, I will be gradually putting cash to work.  Recall that my goal is to average 2%/month.
Before I sign off, some quick notes about my positions:
For the day: -0.16%, month: +0.94%

My best to you all.
-EM
We decided to move my 14-week-old daughter from her bassinet into the crib.
Crying…so much crying.
The sacrifices are made now (i.e., sleep, intimacy) so that she will sleep better as a toddler, child and adult.
We "sleep trained" my son.  The little guy doesn't cry in the middle of the night with a 104 fever (I'd actually prefer him to be a little more vocal…but we can tell if something is up).  The road there was arduous.
Before I proceed any further…I need to mention this: our most invaluable tool is the video monitor.  Absolute must have.  We have a model from "Summer" that is our favorite.
Anyway, back to my son.  First we tried to let him "cry it out" at 4 months.  Basically, the hope is that your child will learn to soothe themselves and not freak the fuck out when they wake up.
Well…4 months is probably too young.  He was relentless.  Pillow over the head (mine), earplugs, nothing could drown out those cries.
We scrapped that plan.
Then we went to "progressive waiting".  This is the shit.  Your kid cries, you wait a set amount of time.  After that time you go to their crib and for one minute ONLY just comfort them physically (rub their belly, head…something calming)…no verbal interaction whatsoever.  No eye contact.  THEY WILL (probably) GO FUCKING CRAZY when you walk away.  But then strangely…they calm down.
After the first interval, you wait for a longer period of time for interval 2.  We used 5-10-15-15-15….  Strangely enough, we never had to do 10…he relaxed and learned to calm himself down.
So, here we are with my daughter, and we are currently in the shit.
Oh look there, you'll need to pardon the abruptness with which I end this dialogue, I have a screaming child to tend to.
Until a little later.
-EM