That guy Murphy and his stupid law.  Last evening I decided that since my daughter had been sleeping through the night, every night for an entire week (granted we, well, I am "sleep training" her), I would treat myself to a "late night", pushing sleep off until after midnight.
Lo and BEHOLD, a few minutes after 2AM I hear the sounds that only one with young children could/would recognize.  The good news: I was able to squeeze in a solid 60-70 minutes of sound sleep prior to this event.  Around 3:15 she finally settled and I had the privilege to sleep for another couple hours prior to work.
I can plow through my real work here without much deliberation or need to be completely alert.  Blogging (and writing in general), however, takes a heightened mental capacity that is often left clouded and confused when I don't get enough "shut eye".  I apologize in advance if I repeat similar phrases a few times…my brain is not currently firing on all cylinders.
The portfolio crept ahead to gain all-time highs again yesterday, for that I am happy.
Some individual notes:
As mentioned, new highs: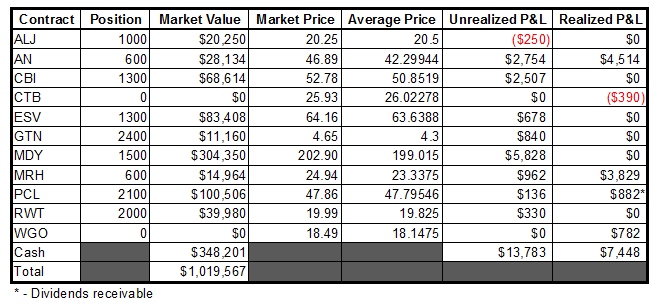 -EM