I won't bother to offer human sentimentality, but today will simply show you what the very intelligent Stocklabs machines are saying about this market.
We are now OVERBOUGHT on our 3 month algorithm, which is the most sensitive of our algos. While I prefer to look upon the 12 mo as a stronger signal — in recent months we've gotten zero of them. In its place, as the market adjusted to new realities, the 3 mo has been crushing.
BEHOLD THE PAGEANTRY!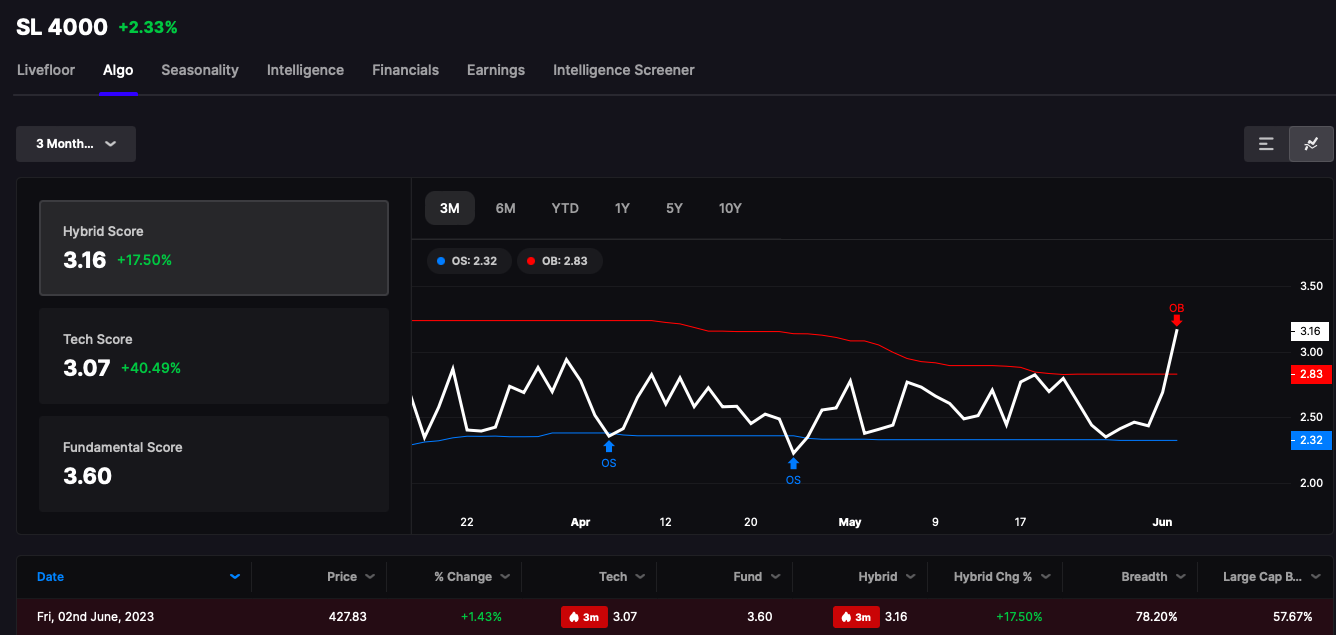 What the fuck does this mean?
We rank stocks on a 1 to 5 scale for both fundamentals, by reading balance sheets and earnings reports, and technicals. The aggregate score is tallied for all stocks and with those scores we produce mean reversion algorithms, in this case the band is stretched far and wide towards OB. Now being overbought doesn't always mean we're due to go lower. In many previous instances the OB was the most bullish of signals — because it meant, as a fact, that stocks were strong.
The last time we were OB was Jan 2023, when a series of a dozen plus signals popped off to start the year. Note we only count the first signal in our stats per 10 trading sessions.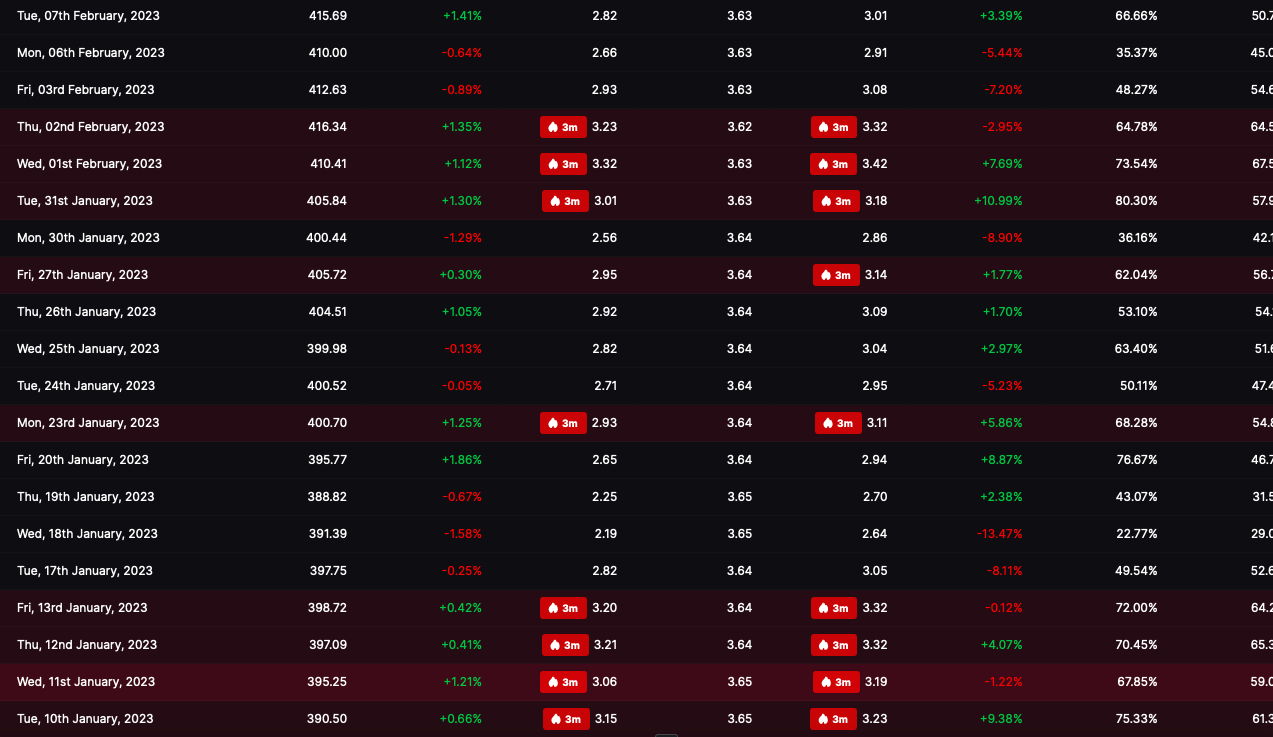 The OB kicked off a serious rally in stocks that steamrolled shorts.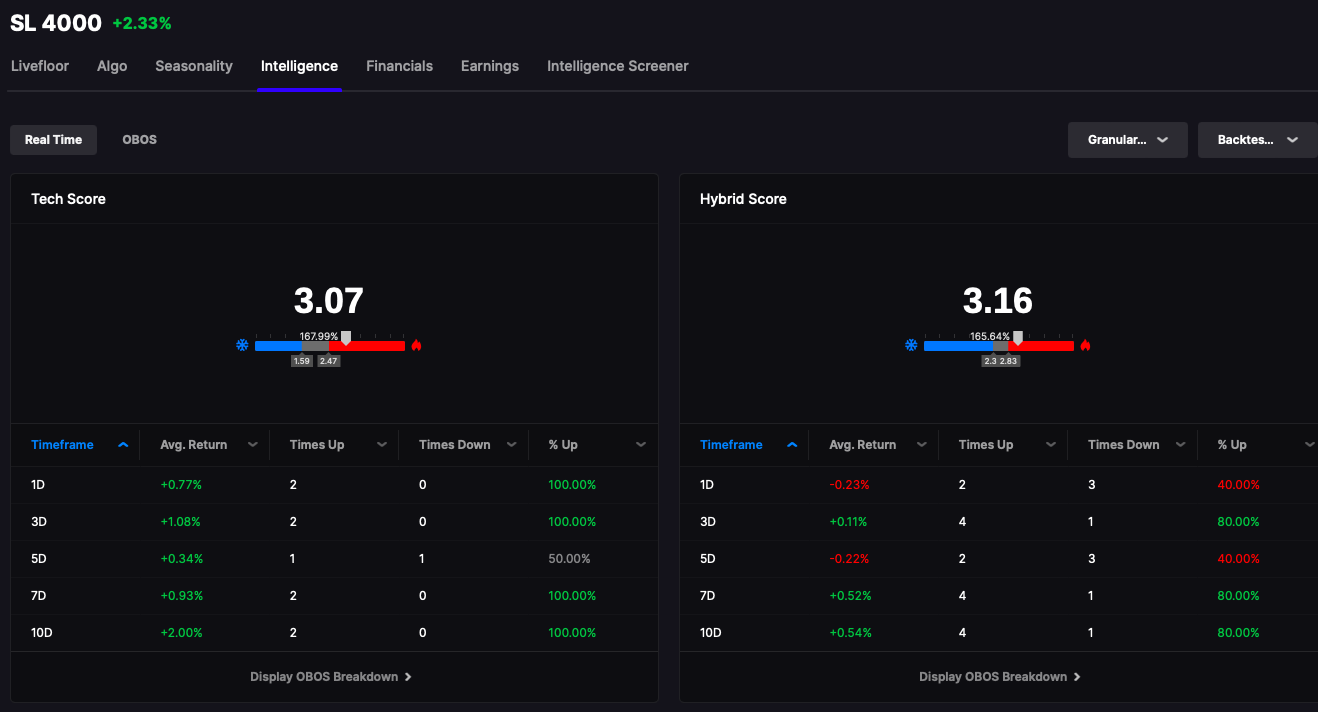 The current stats over the past year show just 5 signals at this elevated algorithmic level — but that doesn't mean there was just two signal. As I mentioned before, we only count 1 signal per 10 days.  On the hybrid score, we have progressed higher 4 out of 5 times when elevated up here.  If you look back in this post at the algo chart, you will also notice the oversold working too on the 3 month.
Bottom line: We are extremely bullish and leveraged +118% long here, confident and comfortable in the AI to invest with a carefree demeanor and possess a candor that is both obnoxious and gratifying to the person in possession of such advanced toolz.
If you enjoy the content at iBankCoin, please follow us on Twitter