I managed to lose money this week, off by 1.6% — now sitting FLAT for November. When I juxtapose this nothingness against the fact the SMH is +16.6% for the month, all gains achieved entirely this week with Semis ripping ahead by 17% from Monday-Friday, I am chagrined.
These are the areas of the market that are bountiful.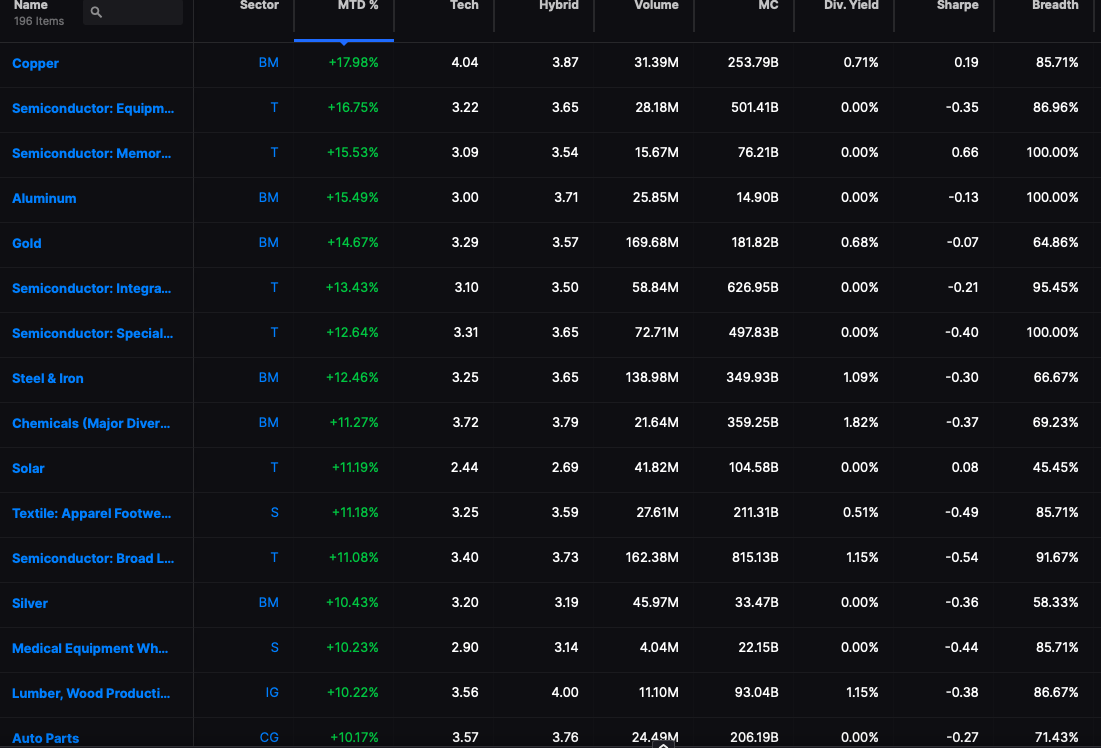 It's also worth noting the SMH gains are of a historical nature, only surpassed a handful of times with 2002 +22% being #1. I'd argue the upside in in fact LIMITED for the semis here; but who will listen?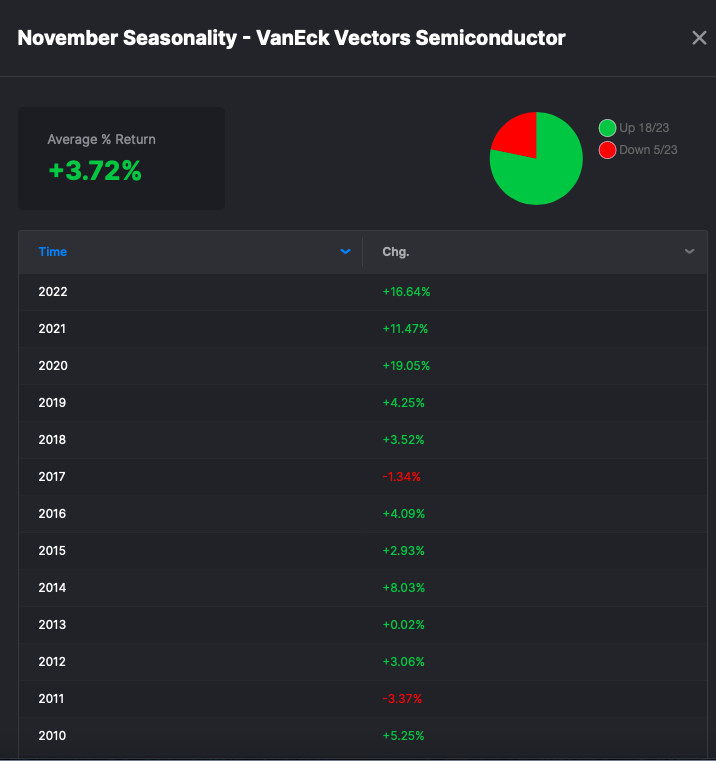 It was all fun and games until the CPI print caused stocks to jump 1200 and I had been, and always have been, positioned SHORT. I didn't get my brains squeezed to hell because I react to the  event, sometimes too quickly for my own good. There are bastards out there nailing every turn and providing their accounts with gains in both up and down tapes. At times, I am able to do that as well; but not recently. I underperformed last month, making just 3.33% and I lost 4.4% in Sept. Before that I was +3.4% in August and and July -3.8%. It is accurate to say I have done NOTHING for the better part of 6 months, as I spun my wheels indecisive and unsure as to a direction to commit to. The reason for this is as plain as day: markets looked like hell up until the CPI print. We are in a continuous state of crisis, only buoyed by these news events, and almost always we renew crisis mode and continue a cycle of grind house until all market participants and shattered to pieces.
I closed 119% allocated, mostly high quality longs hedged by TMV, DRV, and UVIX — which is a play on higher rates. Should rates go higher as we reflate and oil shoots up? Absolutely.
In closing, another SHIT-FILLED week for yours truly, down 31bps for the day, with a range of +28bps to -85bps. I am no longer grateful for maintaining my 50% YTD gains because too much time has elapsed for me to continue with that line of thinking, which brings me to my next conclusion. I will be providing a greater conviction to my bias next week, accomplished by minimal hedges and cash. If I am to become shattered to pieces across the rocks and fish, so be it. But this static do nothing phase of my personal investing has bored to be death and I can only imagine how some of you feel out there, semi-retarded cro-magnons, depending on me for ideas only to return back with your principle all the while gains of a ribald nature sashay too and fro your large nose.
I will make amends inside Stocklabs, starting next week. PREPARE TO BLOW THE FUCK UP or become a man of independent means.
If you enjoy the content at iBankCoin, please follow us on Twitter