If the Rubles makes it back to where it was pre-Ukranian war, this will be viewed as a disaster for US policy against Russia and, in my opinion will have a profound effect in both markets and public opinion.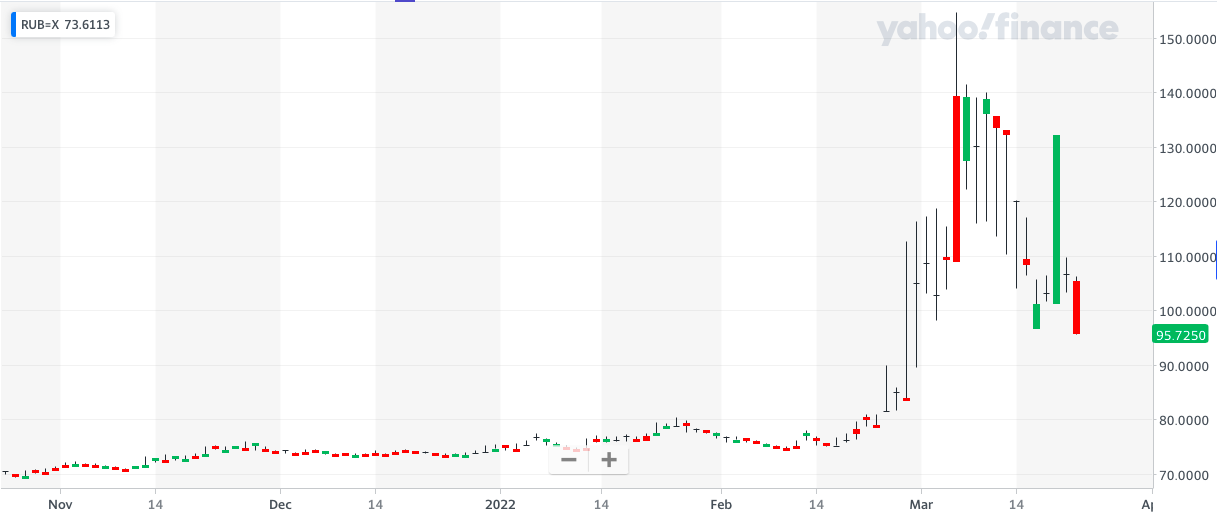 The dollar has only retained its value because of its currency reserve status. Since the war broke out, the US has done everything in its power to punish Russia, via seizures and sanctions. In many respects, these are tantamount to theft, the thievery of another nations gold and coin. We have seized over $400 billion in Russian dollars and gold and while some might view this as deserves, due to Ukraine, the ancillary effects of this form of warfare places immense doubt into the minds of other countries who once viewed western finance as stable and reliable.
This war has proven we are anything but reliable, instead more akin to a cabal.
Now with Europe forces to pay for gas in Rubles, one could expect a shift in sentiment concerning the Ruble and if that translates into a run on the dollar or the Euro — markets are going to get lit up. The markets do not see this yet and were all enjoying ourselves with stocks propelled higher, seemingly immune to the cross-currents. Then again, inflation is double digits, so how valuable is your dollar?
I wanted to emphasis the importance of this Ruble move and possible EXPANSION of Russian commodities for Rubles, which might in fact spread to uranium next.
If you enjoy the content at iBankCoin, please follow us on Twitter