If curious as to the happenings of COVID — look no further than this.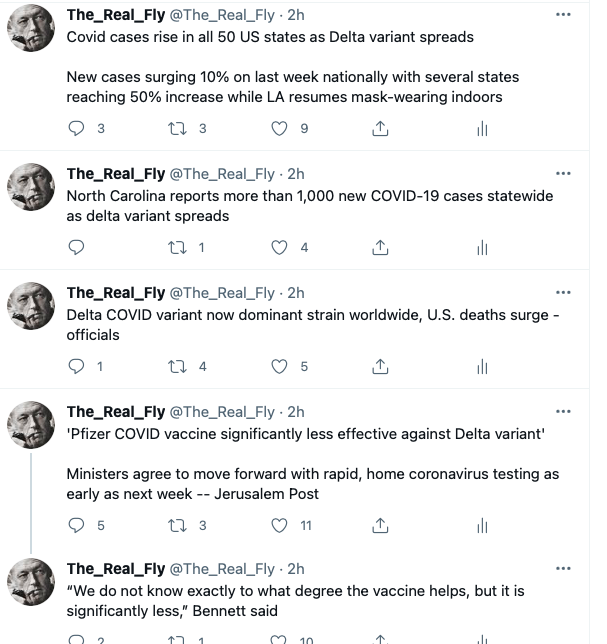 There is a database out there called VAERS which measures the amount of deaths after COVID vaccines and it amounts to 10,000+. The only problem with it, it is unreliable and if you got hit by a car after the vax — it was counted in the stats. There is undeniable proof the vaccine is thwarting the spread of COVID and reducing its severity upon whom it's afflicting. However, no government is releasing actual data regarding deleterious injuries or deaths after VAX — which has caused people to make up their own. This is what happens when you try to suppress information — the wrong information spreads like fire because people always want to believe what they're not supposed to know.
The closest I've read to honest is coming out of Israel, saying the $PFE vaccine is nowhere close to as effective as previously stated. COVID is real — but the dangers are of course widely exaggerated and we're at a point now with cases on the rise, and resistance to further vaccinations, we could be entering a very dark locked down Fall — which is why markets were on edge.
I am mostly long old man stocks and some NVAX — the cheapest of the vaccine plays. I am also long YOU, which literally is a vaccine passport play. The Orwellian hellscape you've always read about and seen depicted on teevee is coming and shortages are to be expected. I don't see how we do not lockdown — given the spread of COVID even after 70% of people are vaccinated. The numbers government are telling us must be false. For example, over in the UK 44k people got COVID yesterday, but 90% are vaccinated. Mathematically, that many people SHOULD NOT be getting infected. As a point in fact, the virus should be all but gone. The narrative woven by the media is only UNVAXXED are getting sick. FALSE.
Six NY Yankees tested positive for COVID yesterday — most likely all vaccinated.
French tennis start Alex de Minaur tested positive and will not attend the olympics. Upwards of 98% of olympians are vaccinated.
Providing the cover ups and dishonesty by governments continue, you should expect more misinformation to spread widely and people who were on the fence about getting vaccinated remain on the fence. We do not need incentives or bribes to protect ourselves from a virus. What people want is to truly understand the risks and make informed decisions. When you market and push and coerce and force people to do things — that campaign fails and what it does, truly, is create a toxic environment that destroys the credibility of the host. We have seen this happen innumerable times over the past 20 years and that is why no one believes anything anymore and that is why hate and divisiveness are at record highs.
WH PRESS SAYS PEOPLE WHO SPREAD MISINFORMATION SHOULD BE BANNED FROM ALL PLATFORMS pic.twitter.com/E5P7tQD7Z9

— The_Real_Fly (@The_Real_Fly) July 16, 2021
If you enjoy the content at iBankCoin, please follow us on Twitter