I'm a sucker for consumer brand plays — mainly because they always work and are rare. If you've been reading me for a long time, you would know I was first to Hansen and then Monster, hopped on the GMCR/Keurig train very early and also got involved with FIZZ and the La Croix craze. Well there is another one now — ticker CELH — goes by the brand Celsius.
I know — another energy drink.
But these guys are crushing and all of the data points to higher prices.
I listened to the last two conference calls and here are some of my takeaways.
CEO's cadence is extremely upbeat and bullish. This is anecdotal evidence, but in my experience a very good tell for how the company is being managed. He sounds like a killer and knows how to operate.
Due to COVID — aluminum can supply has been short and they've been forced to find alternative sources, added to input expenses. This is temporary, just like COVID lockdowns, and will abate over time.
They landed TGT and WMT and in 50% of all WMT stores and expect to be in the rest of them by the end of 2021.
In all, they are in 100,000 locations and growing, covering 75% of the metro markets in the US.
European growth is about +25%, expanding.
Their Amazon sales are up ~200%, just pushing ahead of Red Bull — making them the #2 energy drink retailer on Amazon after Monster.
In total, they have about 1% of the energy drink market. Red Bull has 20%.
Sales have been ripping, +75% and looks to be accelerating into the summer.
I just got Nielsen scan data for $CELH over last 12 weeks: +198%

This means for Q2 revenues $CELH should do around 198% YoY for US

If international only does 20% YoY we should see $CELH post Q2 revenue growth of 160-165% YoY ?

Right now analysts are looking for 78% YoY for Q2

— Jonah Lupton (@JonahLupton) July 2, 2021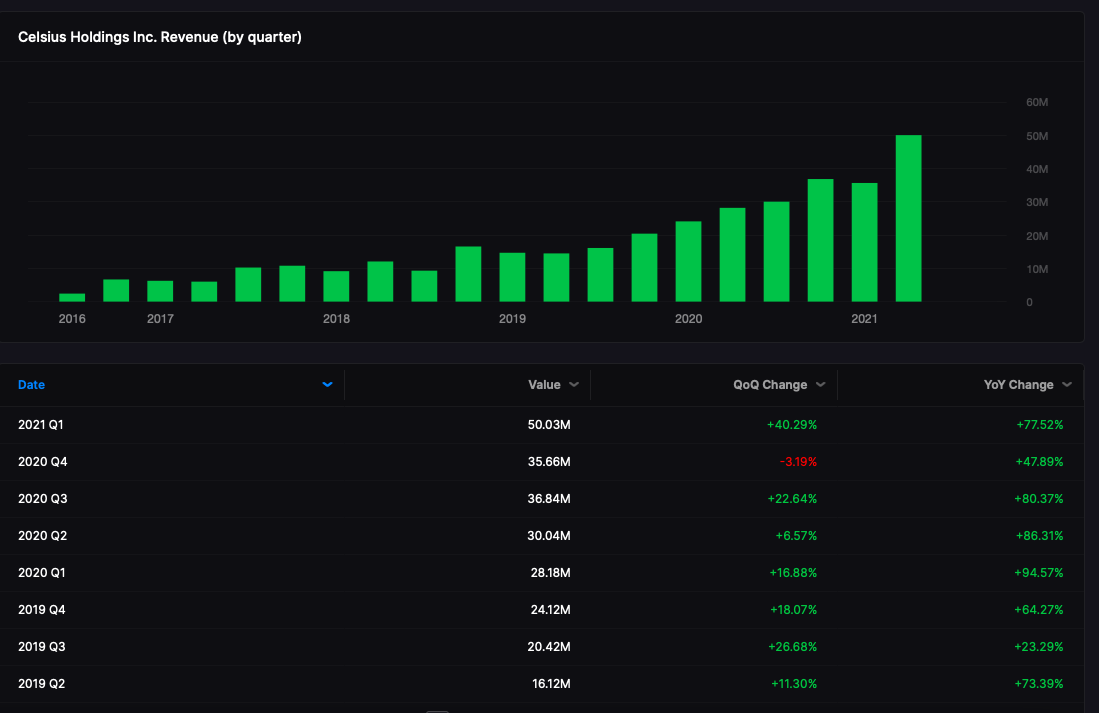 Inventories are WAY up, 100% QOQ, indicative of higher sales in the current quarter expected.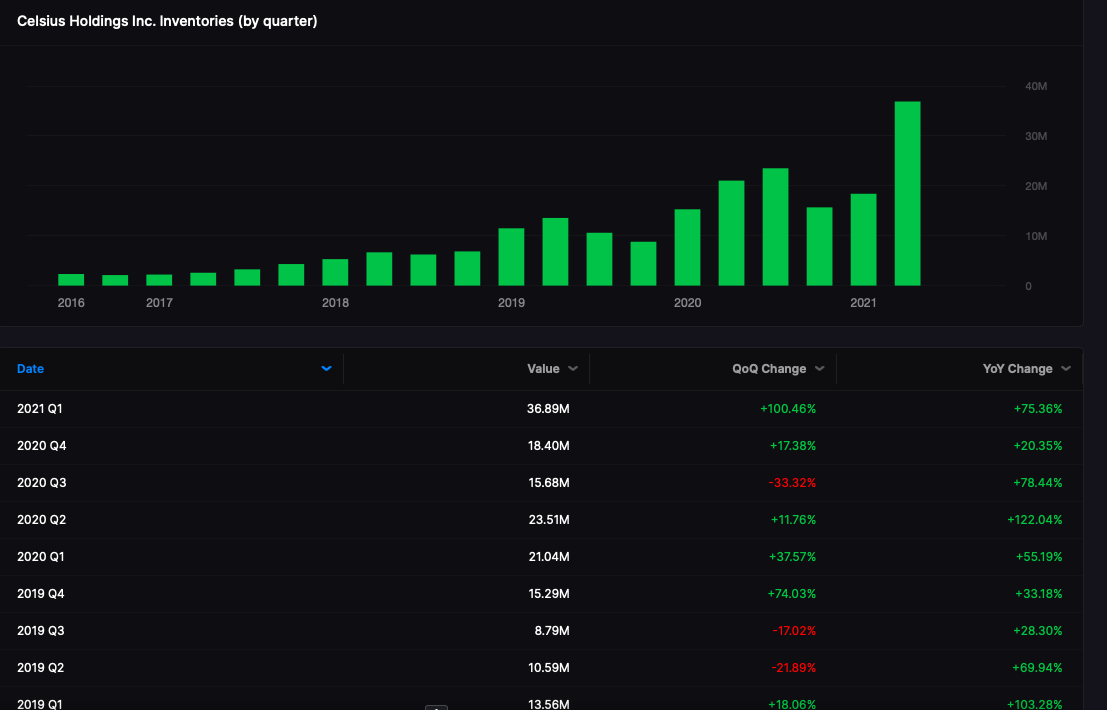 Stocklabs price target is $123, based on next year sales estimates.

At 35x sales, the stock seems expensive. However, based on 2022 estimates, which are probably too low, the stock is only trading 15x. MNST, which has only 15% growth, is trading at 10x sales.
For me, I have little to go on here in terms of the product — as I have not tasted it. But I bought the stock based on these numbers and know these trends do not die fast. Sure, there are plenty of energy drinks out there — but this is the cool kid stealing share from everyone else. During the call the CEO could not stop talking about their TGT roll out and how their sales were outperforming all other energy drinks. Online, their sales are beating out peers by 7.5x.
At some point they will slow down and the stock stall. But, at just $50m in qt sales, heading into the best season for beverages and coming out from COVID lockdowns — I like the stock and will likely hold it for the next 6 months minimum.
If you enjoy the content at iBankCoin, please follow us on Twitter