Just a few days ago ETH-heads were popping champagne corks into each other's faces. Today they're all crying in their showers, wondering when it all went wrong. The truth is, the magnificent decline of 30% in cryptos these past few days is more or less part and parcel of investing in an asset class that has gone ape-shit to the upside. The parabolic nature works both ways and I suspect it will not bounce back right away.
This is good news for people who missed out the first and second time and always wanted back in. The blockchain and cryptos aren't going way, so view this misery as nothing more than a pause en route to greatness. There are few asset classes that I have complete and total conviction in — ETH is one of them. This dive lower, although disheartening, has done nothing to disturb me because my expectation is for substantially higher prices over the long term. The money I am investing into it is not needed by me and I am fixed on investing in ETH on a monthly basis.
This malovolent move lower is having a deleterious effect on stocks too, as risk on behavior morphs into fear. This does not feel like the end, sadly. I do believe we'll be placing in a bottom soon, off and away again to Neverland cavorting with unicorns and gay giraffes.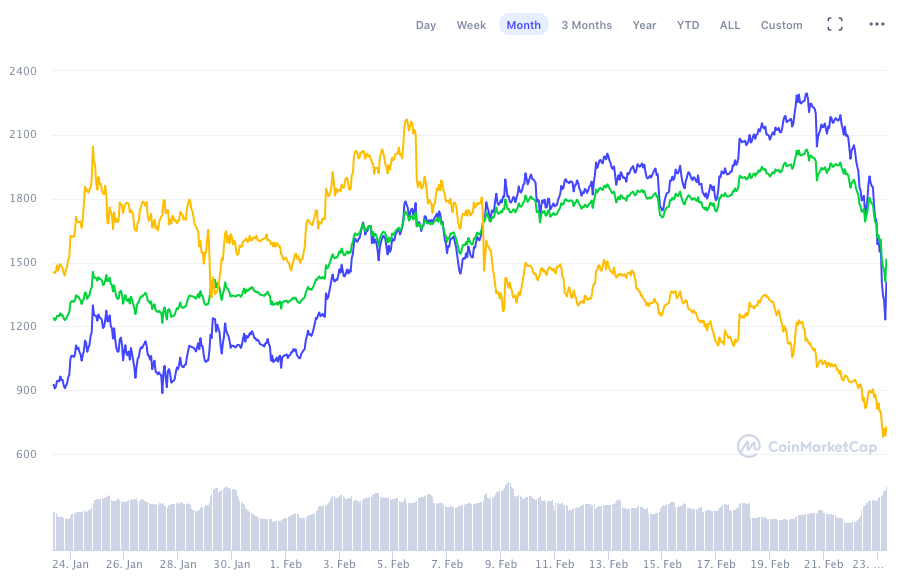 If you enjoy the content at iBankCoin, please follow us on Twitter