On Friday of last week I went into the market with my cock and bought a bunch of stuff — heavily long, leveraged ETFs — the works. There were some of you out there who questioned my sanity and my market prowess. After all of the delicious fish I've served over the past decade plus, some of you chose, willingly, to bet against me.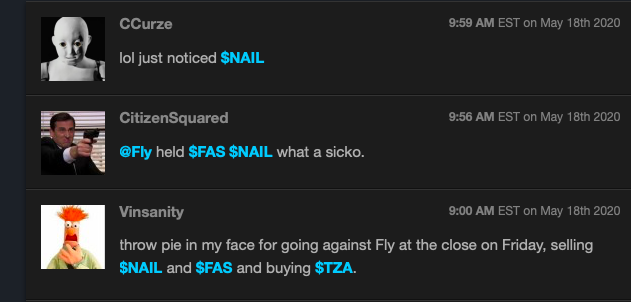 The Dow is up 700, Nasdaq +200, WTI +9%.
How about deez nuts?
YCBD +40%
NAIL +22%
FAS +12%
NAK +8%
OPK +2.6%
CARS +6%
INO +4.1%
RWT +3.2%
SDGR +1.7%
TENX +4.5%
See pal, that's who I am and you're nothing. In this world, there are two types of people — those who fuck and those who don't. Le fly fucks.
Commentary isn't needed. Actions speak for themselves. The good guys won again. Godspeed.
If you enjoy the content at iBankCoin, please follow us on Twitter