Japan raised their sales tax to 10% and it caused the economy to fucking crash thru the floorboards. As a result, more nothing.
Nasdaq fits are +35.
Japan's economy suffered its biggest contraction in five years in the final quarter of 2019, slowed by a sales-tax hike and a destructive typhoon.

Gross domestic product for the world's third-biggest economy shrank an annualized 6.3% from a quarter earlier, according to data released by the Cabinet Office on Monday. The average forecast of 34 economists surveyed by the Japan Center for Economic Research was for a 3.55% fall.

Consumer spending fell 11.1% after the national sales tax was raised in October to 10% from 8%. During the same month, Typhoon Hagibis ravaged a large swathe of the country.

Capital spending declined 14.1% and exports slipped 0.4% due to the fallout from the U.S.-China trade war.

The economists surveyed in the JCER poll expect a rebound in the January to March quarter, projecting that GDP will rise 0.54%. But uncertainty over the impact of the novel coronavirus outbreak has cast a shadow over the Japanese economy, especially with China's slowdown expected to worsen.

"The sharp drop in output after October's sales tax hike supports our view that Japan's economy will shrink this year," Capital Economics wrote in a note after the data was published. "But after today's release, our forecast of a 0.2% drop in GDP in 2020 looks optimistic."

"We can expect a gradual improvement," Yasutoshi Nishimura, minister for economic and fiscal policy, said after the data was published, adding that the impact of the tax hike was not as big as the previous increase in 2014.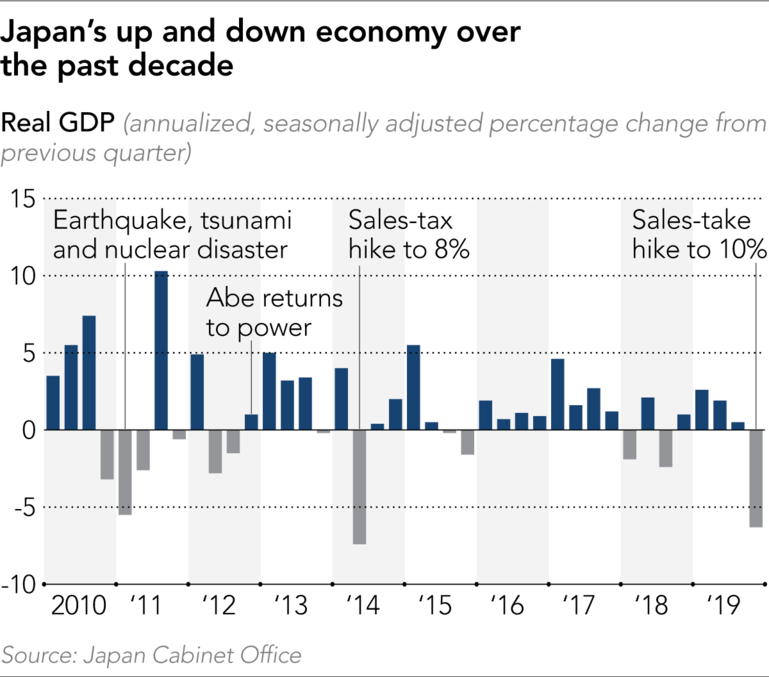 Who gives a shit right? Let's get tis fucking party started already. Sadly, markets are closed tomorrow, as we make believe to give a fuck about George Washington.
If you enjoy the content at iBankCoin, please follow us on Twitter