The notion of cooler heads prevailing took a backseat to a new volley of tariffs out of Washington and Beijing.
Here's the latest.
Via ZH:
However, that did not happen, and with no trade deal in sight, at 12:00am on Sunday, the Trump administration slapped tariffs on $112 billion in Chinese imports, the latest escalation in a trade war that's ground the global economy to a halt, sent Germany into a recession, and given the market an alibi to keep rising because, wait for it, "a trade deal is imminent."

Only, it isn't, and 1 minute later, at 12:01am EDT, China retaliated with higher tariffs being rolled out in stages on a total of about $75 billion of U.S. goods. The target list strikes at the heart of Trump's political support – factories and farms across the Midwest and South at a time when the U.S. economy is showing signs of slowing down.

The 15% U.S. duty hit consumer goods ranging from footwear and apparel to home textiles and certain technology products like the Apple Watch. A separate batch of about $160 billion in Chinese goods – including laptops and cellphones – will be hit with 15% tariffs on Dec. 15. China, meanwhile, began applying tariffs of 5 to 10% on U.S. goods ranging from frozen sweet corn and pork liver to bicycle tires on Sunday.
Nasdaq fits are -62. Here's why you want to be long gold. Inflation will get forced down our gullets, courtesy of the trade war.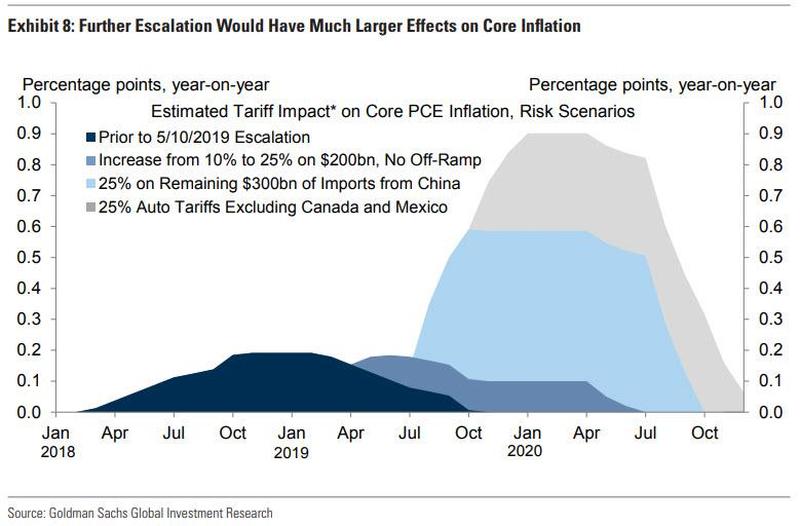 Gold futures are +0.45%.
If you enjoy the content at iBankCoin, please follow us on Twitter