To be clear, we mostly despise the Fed and their tactics that have helped usher in economic volatility in the US, correct? I mean, Bernanke did save us, but then again Greenspan fucking ruined us. I always said the Fed was doing this shit on purpose. The 2008 financial crisis ended up being a giant land grab by big banks — fucking small players out of their investments.
Well, here we are with a sitting President actively shitting on the Fed, trying to both discredit and dismantled the institution. Thoughts on this?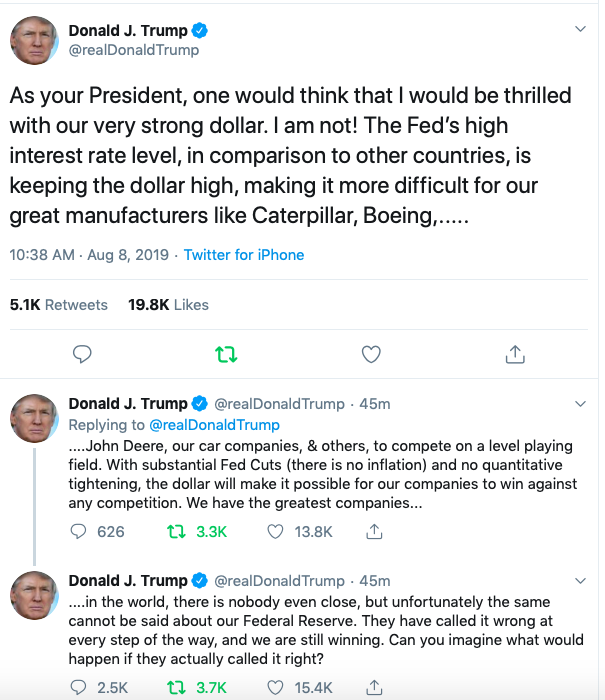 You must admit, it's going pretty well. Trump got the Fed to stop hiking and instead turn around and cut. I was worried that higher rates would apply pressure to distressed oil and gas assets, pushing down credits in junk bonds and perhaps causing another recession. In late 2018, it sure did look like the Fed was trying to kick leveraged loans down a fucking sewer pipe — but all of that has changed now.
In other news, a Nomura analyst is making headlines for making a retarded call, suggesting we're barreling towards a 'Lehman like' sell off.
The rebound, supported by dip buying and technical positioning by speculative traders, is bound to be a short-lived one as market sentiment continues to deteriorate, Nomura strategist Masanari Takada says.

"We see the rebound in US stocks as a mere technical rally that looks like no more than a bump in the road on the way down," Takada says.

The strategist garnered much attention this week for his call for a "Lehman-like" sell-off as soon as late August.
Everyone can fuck off. I sold ZS and OKTA today for 3% overnight success stories. I have 5 stocks that I want to buy — but will wait to buy them late in the day, in order to avoid any intra-day shenanigans.
If you enjoy the content at iBankCoin, please follow us on Twitter