I'm game. Whatever makes me money is game. I don't discriminate against vegans, even though I think they're wasting their time. Remember, I'm the guy who tried being a vegan for a year, did another year in absolute prison being gluten and dairy free. I even went two years without drinking a cup of coffee because I thought it was the preferred beverage of homeless people worldwide. I am as open minded as they come. On the issue of Blue Apron, no one hated them more than me. Total scam.
But here we are today — stock is pistol fucking hot on this BYND-APRN news.
Blue Apron says it will add Beyond Meat products to its meal kits next month.

Blue Apron split its stock last month to avoid being delisted on the New York Stock Exchange, while Beyond's stock has soared since its May IPO.

The meat kit provider has turned to partnerships as it has struggled to find a loyal subscriber base.
The result? BAM!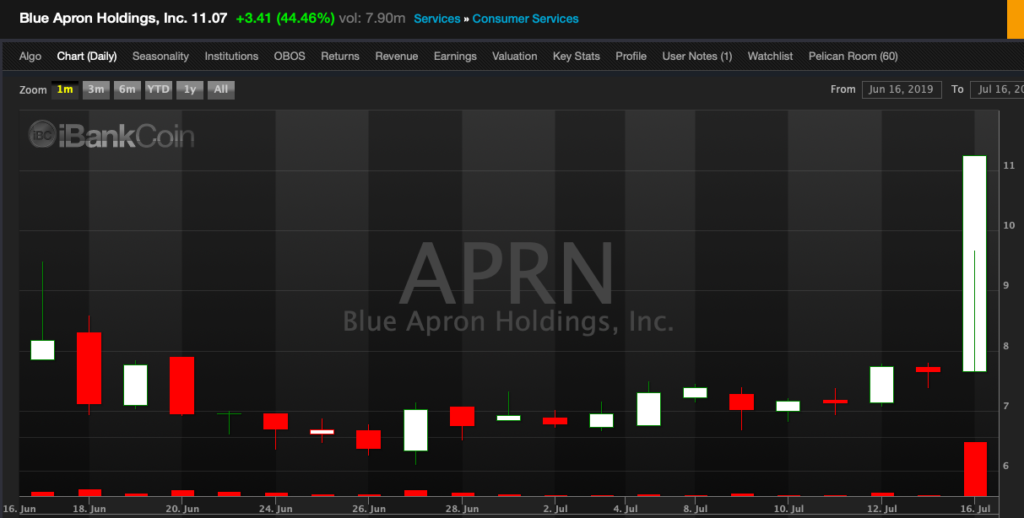 Fucking rockstar.
I also like silver. I see it running higher, even though gold is flat. No idea what that's about — but I'm game. I am fucking game for everything. Show me a sector that is selling meth to elderly people and I am in, providing it can make me money. That might've sounded a little satanic, even evil, but it's not. Don't confuse my hyperbole with my core values, which shine like a beacon of justice amidst this mountain of criminality that you call America.
If you enjoy the content at iBankCoin, please follow us on Twitter