Love or hate him, Jim Cramer always lamented the first day surge in his company's stock in 1999, TheStreet.com — because he said it was going to hurt all of the people who bought it that day. It pained him to see it, and people should know that he's on record for being a generally good and empathetic person regarding the failure of TST.
At the peak, TheStreet.com was valued at $1.7b. Today it was bought out for $16 million.
TheStreet, the stock market news website co-founded by Jim Cramer, agreed to be acquired by TheMaven Inc., a Seattle-based digital media company, for $16.5 million in cash, the site announced on Wednesday morning.

It's unclear if Cramer, who has become a household name hosting "Mad Money" on CNBC for more than a decade, will remain involved with the site. When reached for comment, TheStreet CEO and CFO Eric Lundberg said "it's TBD," or to be determined, if Cramer will stay connected to the site in any official capacity.

The deal will pay between $6.19 and $6.47 per share to TheStreet shareholders, representing about a 9% to 14% premium on where the company closed on Tuesday. The buyout boosted the site's shares nearly 7% in early trading on Wednesday, hitting $6.06 per share.
What the fuck happened and how did it go wrong?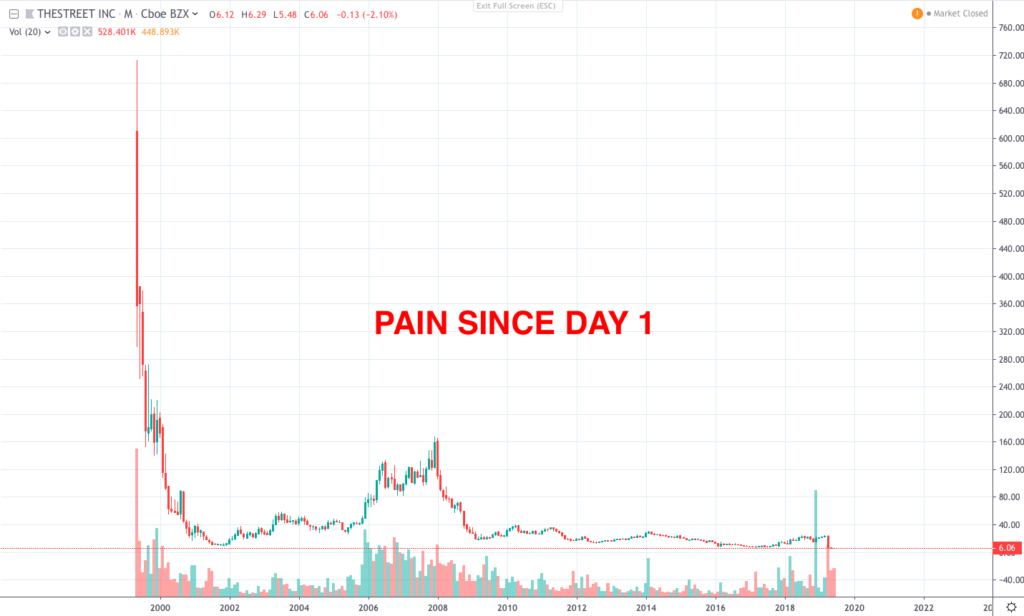 I know people who've written for TST and I know their business model and can tell you with certainty that mismanagement is the prime driver behind their failure. I mean, Cramer was the first finance blogger, who had a main stream media profile and subscription based product. Why did they stop innovating? Why did they hire no-name, zero talent, writers and pay them $3k per mo for a handful of shitty articles? Much of the main stream finance is retarded in this regard, and it's ironic since they're supposed to know business and the pitfalls that publicly traded companies make.
iBankCoin does a fraction of what TST produces in revenues, yet nets way more. They do nothing but bleed.
Why didn't TST build up another cult-like personality aside from Cramer and to a degree Rev Shark? Why didn't TST make some real acquisitions? Why on earth did they rely upon ads to pay their bills? AND WHY ON GOD'S GREEN EARTH DOES THE STREET DOT BOMB HAVE 800 EMPLOYEES?
Zerohedge is worth more and does more traffic than TST and has like 2. Cramer and two programmers could've ran TST themselves and produced incredible value for shareholders. Instead, TST, and this is well know for those in Fintech, was a fucking stuffed pig that everyone took a bite from. It was wasted and cast out to die by Cramer and principle shareholders and now it has been sold at a bankrupt rate and everyone who believed and whoever had faith in the brand coming back, for leadership turning things around, have been blown the fuck out from here until eternity — gone.
TST failed because they didn't care about shareholders and only wanted to milk it until it was finally dead.
RIP retards.
ADDING INSULT TO INJURY: The Maven is a piece of shit website, an amalgamation of subpar writers and content, which is also PUBLICLY TRADED, illiquid, on the OTC — selling for 42 cents per share.
So today https://t.co/zzpYENtIui was bought out by a penny stock on the OTC dubbed "The Maven". What a fucking ridiculous end to that fucking dumpster fire $TST pic.twitter.com/jfvYP0uypW

— The_Real_Fly (@The_Real_Fly) June 13, 2019
If you enjoy the content at iBankCoin, please follow us on Twitter