This isn't a post for just Exodus users. You fuckers are more than welcomed to take a 7 day trial. Every time the market presents us with an opportunity to grab quick short term again, FUCKERS give me pushback for traveling this road. For some reason, people are afraid and disdain what they don't understand. My philosophy is 'at this point, what difference does it make?'
They're all just letters and numbers to me, algorithms moving fast through our simulation, ingratiating some while being punitive with others.
This past week, I nailed an overnight double, two 45% wins, and about a dozen or so double digit wins.
How did I do it? Aside from the unbelievable research being done in The Pelican Room (the trading room inside Exodus), I use one specific screen and here it is.
First, I sort by % up to see what's popping. Then I look at the industries to see if there's a common thread. Last week was first Chinese Burritos (only Exodus has an entirely separate sector for Chinese stocks), and then biotechs — all small caps.  I scan for stocks with market caps less than $5b and favor stocks up more than 10% for the session. Most importantly is the average volume vs intra-day volume. In most of the stocks I traded this week, they had intra-day volume 10x and higher their average volume — indicative of a stock gone parabolic. Lastly, and this is a neat little thing I added, I look for stocks within 1% of their intra-day highs. I don't always use this measure — but I find it especially useful towards the end of the day — because stocks that rip higher into the close typically continue higher the next morning.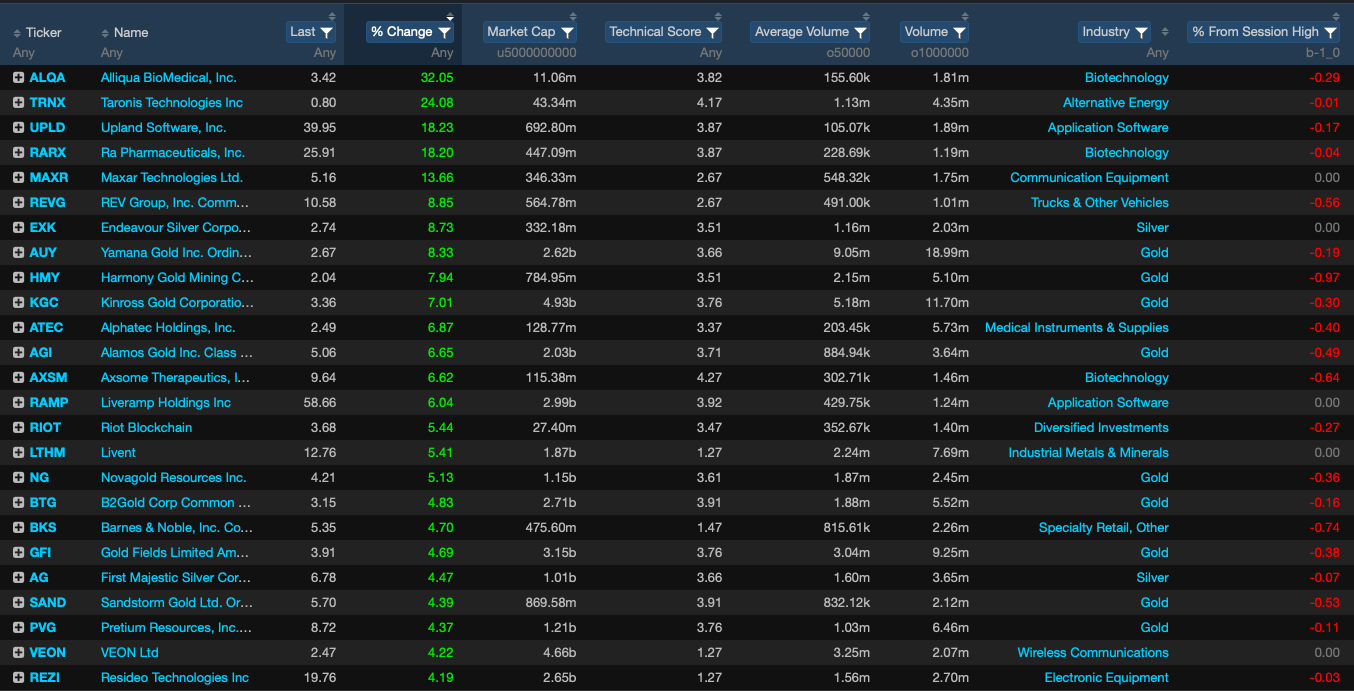 Most importantly, you have to sell these rippers within 30 minutes the next day. The trade is, mostly, for the next day — so don't let trades turn into investments and then finally into losses.
Enjoy your Saturday.
If you enjoy the content at iBankCoin, please follow us on Twitter