This is something that 90% of you need to understand and accept. Trading for a living is not an ideal way to earn money, and it also is, simultaneously, a sublime way to ruin your life and embed yourselves into a permanent state of frantic misery.
Accept the notion that to trade for a living requires a certain fortitude. If you haven't demonstrated these qualities by the age of 35, give or take a few years, you're better off focusing on long term capital appreciation. Even if you're a talented and skilled trader, you should still opt for long term capital appreciation, for the sake of your own sanity and quality of life.
Case in point, the best trader to have ever walked the earth, Jesse Livermore, killed himself after going broke for the thousandth time.
In the end, greed wins and the house capsizes your flotilla.
Consider the following.
Over the past century, markets have traded higher, on an annual basis, 75% of the time.
Let's say you invested $100k and added an additional $1,000 per month to that account for the next 30 years. Let's assume you could achieve a very reasonable 10% return over said timeframe. By the time you're ready to retire, you will have ~$3.7m in your account.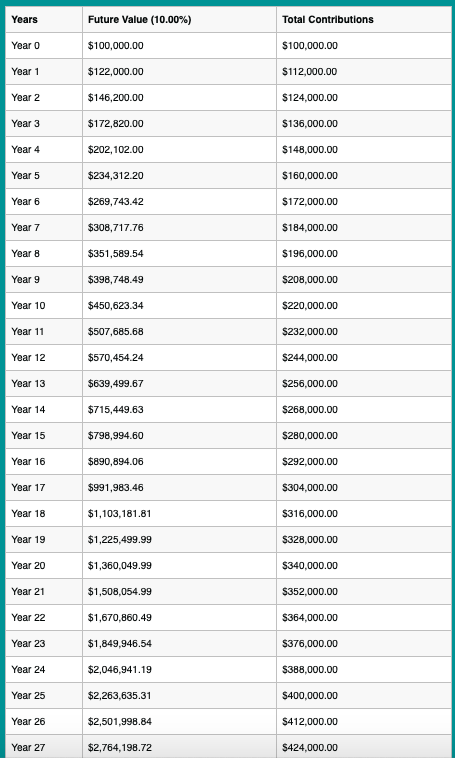 You won't hear or read many stock gurus telling you this, because it works against their marketing schemes. The truth is, and I've always believed in this, the older you get the more serious you should become with your money — leaning towards preservation of wealth. Even if you're 40 years old, this investment stratagem should apply to you. As a matter of act, 50 years olds can do it too, planning out a 20 year strategy.
The death-knell to long term capital growth is, of course, drawdowns. To avoid them, you must not trade with emotion and you must be diversified. In Exodus, I outline how I do it in my Quant portfolio — which is left untouched and only managed once per month.
Keep exposure to all sectors. Model your portfolios against the S&P. Ensure that you're growing with America and taking advantage of recent trends by assessing your portfolio on a regular basis. Avoid the pitfalls of concentration and be sure to harvest gains to balance out weightings.
When I talk about this shit in Capstone to some of you, I hear nothing but agreement and firm noddings of the head — but then you go out and fuck it all up by trading in dastardly 3x ETFs and ignore all of the things I try to teach you to do. Your worst enemy is yourself and it's because you're addicted to winning and greed. Extricate yourselves from the process and live a happier life.
If you enjoy the content at iBankCoin, please follow us on Twitter