Let's lay our cards on the table and do a proper workflow of what this market is predicated on.
Great economic growth, tech, innovation, lower taxes, free cash flow, momentum.
All of the above is at risk, all of a sudden. The auto-catalyst of the negative feedback loop is real. Trump's lies about working on a China deal in flaccid attempts to buoy stocks have hurt sentiment more than people realize. Those short term rallies have all been negated and now we're in a position where retail sales, of all things, can further push us down the train tracks in front of speeding trains.
The SAAS sector is most important when analyzing risk and growth. Those stocks were staggered by 10% today. HUBS is your main tell.
In private markets, VC funds regularly fund companies at 30x. That's an issue now.
Semis are part and parcel of any tech rally. NVDA is your tell.
The FAANG stocks are in a bear market.
Those are facts. If you're betting on a bounce of that this sell off is temporary, you're simply guessing. We will reassess the market and try to play the upside when stocks trade up. Playing mean reversion during a brutal tape like this is extremely hard and low probability.
My core thesis for the moment is for lower rates. Hence, I am 10% long TMF and the rest cash. I'd love to play the upside, but nothing in this immediate tape has proven to be constructive. You might disagree. If you're unable to see in more than 1 dimension and only possess the cognitive ability to act upon first order thinking, this post will be frowned upon. But for those open minded and able to implement lattice structured decisions, BEHOLD THE FOLLOWING CHART.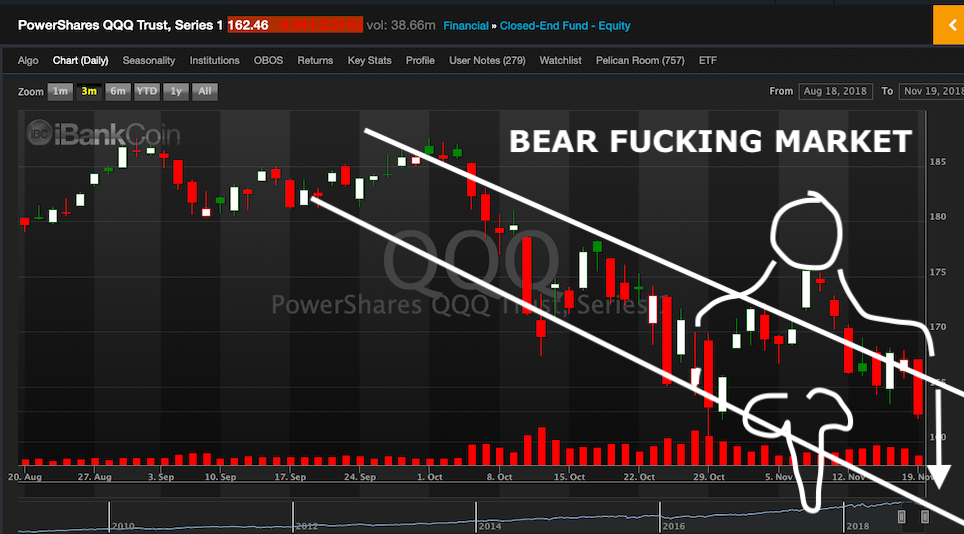 If you enjoy the content at iBankCoin, please follow us on Twitter