I know that I sold SOXS and I just sold NUGT for a 9% gain. I am 90% cash and not trying to play the downside because of my losses endured today. I lost 4%, even with TMF, NUGT, and SOXS and lost the right to speculate in this high octane market.
Here's the important aspect of today's market.
The retest the lowFAGS have won again. We're retesting and it doesn't bode well. FAANG is hitting new 52 week lows. For the session, negative breadth is 85%, only succored by strength in old man stocks like Tootsie Roll, Utes, and gold.
We're at the lows and it looks like another damned head and shoulders. At a minimum, channelFAGS will argue today supports the idea that we're heading back down again and the Nasdaq should crater soon and very strongly.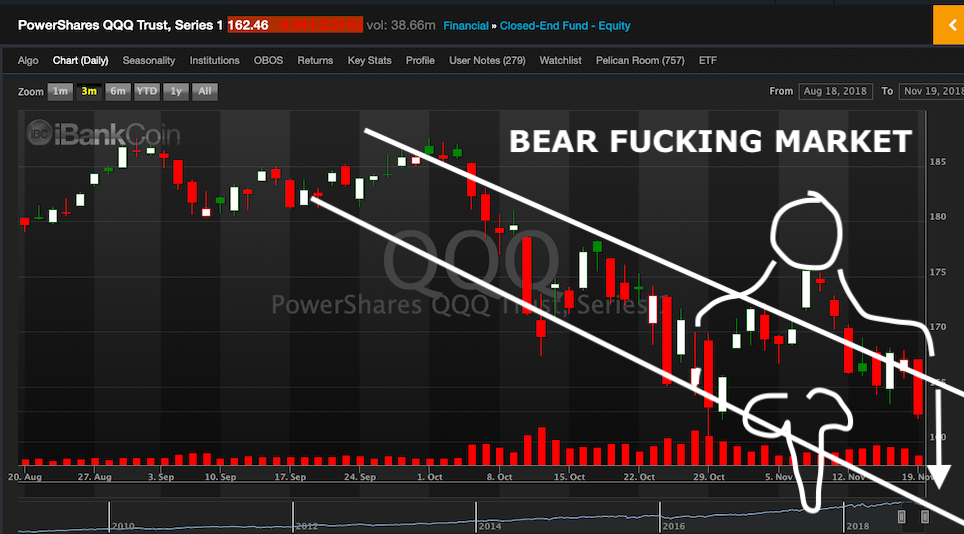 LISTEN TO ME: If you're down big and long, you have to sell here and raise cash. Period, end of story. If you've been in cash, this is a good place to gamble on the long side — hoping for a seasonal bounce. Please understand, the circumstances of those two totally different positions are important. Loss management is the most important aspect of money management. Any monkey can make money in a bull market. Preserving capital in order to trade in a better tape, one without wanton rape, is the goal.
If you enjoy the content at iBankCoin, please follow us on Twitter