San Antonio is enduring the coldest Autumn in 102 years. A severe cold front is coming, and it's going to break your fucking balls off. Meanwhile, we're fracking fast like motherfuckers, liquifying the gas, and shipping it overseas for extreme profit.
You didn't think I could resist the temptation to talk about the UGAZ/DGAZ dilemma — did you?
These Velocity motherfuckers should be drawn and quartered. How many people just got wiped out in DGAZ? This is a trade that was supposed to be easy — because natty never goes higher. We get a 6 standard deviation move in UNG and everyone loses their god damned minds. Fucking UGAZ is the new TLRY and DGAZ is in the graveyard, visiting XIV.
Levered ETFs are evil, especially when a squeeze is on.
I haven't taken the time to read the prospectus for DGAZ — but something tells me those clowns are about to get vehicle'd and wiped from the earth.
Headline news to come — a bastard cold front is coming to break your fucking water pipes in half, causing severe damage to your piece of shit homes.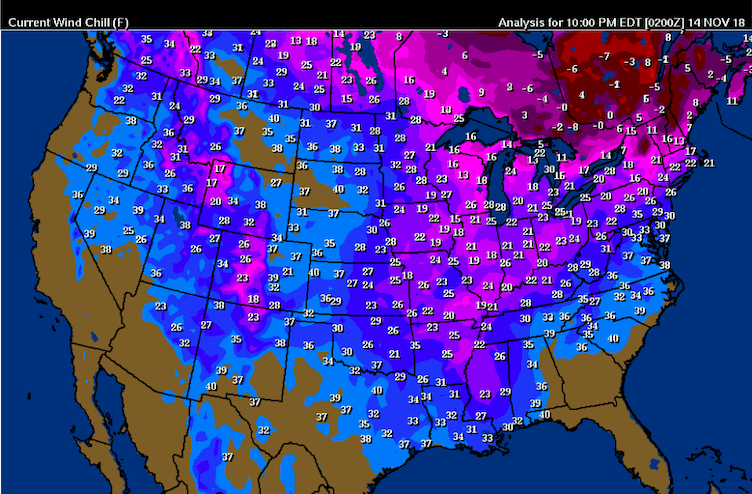 Look at that cold front, boy.
Odds are, natty trades to $7, maybe even higher. There is nothing stopping it now and the shorts are panicked, about to get their jawbones crushed by coked up gorillas. I'll be avoiding this trade, at least on overnight positions. I might take a stab at it intra-day, if only to entertain myself.
My highest confidence trade right now is gold. There's too much fear and too much trepidation for this not to work.
Long $NUGT.
PROSPECTUS UPDATE:
DGAZ, like DIV, has a trigger for an acceleration event pic.twitter.com/Wdq9dTHlsA

— Steve Place (@stevenplace) November 15, 2018
If you enjoy the content at iBankCoin, please follow us on Twitter