One of my hobbies is to collect old newspapers. I find that reading the prose and the news events of yesterday, as they were written then, to be of immense entertainment. Nowadays, we fashion ourselves to be of supreme intellect, casting aspersions at our Victorian Era reprobates. But can anyone else argue the indelible fact that — at least — they knew how to build a better home back then? One hundred years hence and people still prefer the style and design of those Victorian era homes. Personally, I like a newer home — but I do enjoy looking at the old ones.
I came across this article today, which spoke of 'bicycle insanity.' According to the good doctors back then, women were going insane from the wheel. Apparently it was afflicting their spine, in turn, they were going insane. I am certain plenty of poor women were tossed into asylums by their husbands back then, after taking to the wheel one too many times.
Read this shit. The prose is fantastic.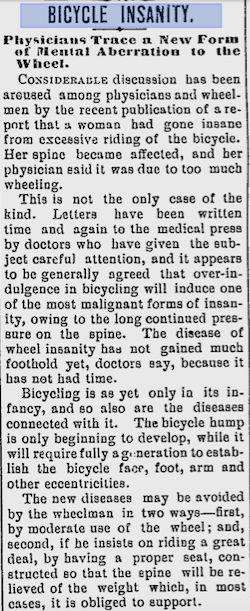 Does anyone else dispute these claims? Clearly, women who take to the wheel too often are insane. I've seen it with my own eyes. While people do not get 'bicycle humps' anymore, the seats are rarely any good, which is likely the reason why so many women out there are haggardly hogging up the road, riding erratically and without decorum or respect for the road.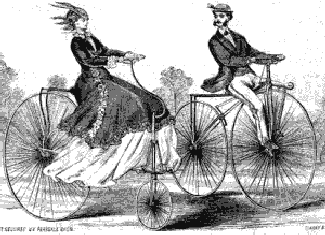 Clearly, insane
For some reason this reminds me of the little show given at the Hugh Mercer's Apothecary in Fredericksburg, VA. If you're ever in that town, definitely go check it out. Also, the local pizza shop there sells the largest pies I've ever seen in my life.
If you enjoy the content at iBankCoin, please follow us on Twitter