Forty percent of the Nasdaq 100 is comprised of a few mega cap stocks: Apple, Amazon, Facebook and Google. Although those stocks have been somewhat resilient in their share price declines, over the past month, the same cannot be said about your average, run of the mill, security.
In what can only be described as the most controversial election in a generation, maybe two or three, stocks have been getting hammered for the better part of the past month — also logging some serious declines over the past three. Amongst the hardest hit are the healthcare stocks — names most readily targeted by Hillary Clinton, most likely because she knows Obamacare needs reform and part of that reform means lower profit margins for big pharma.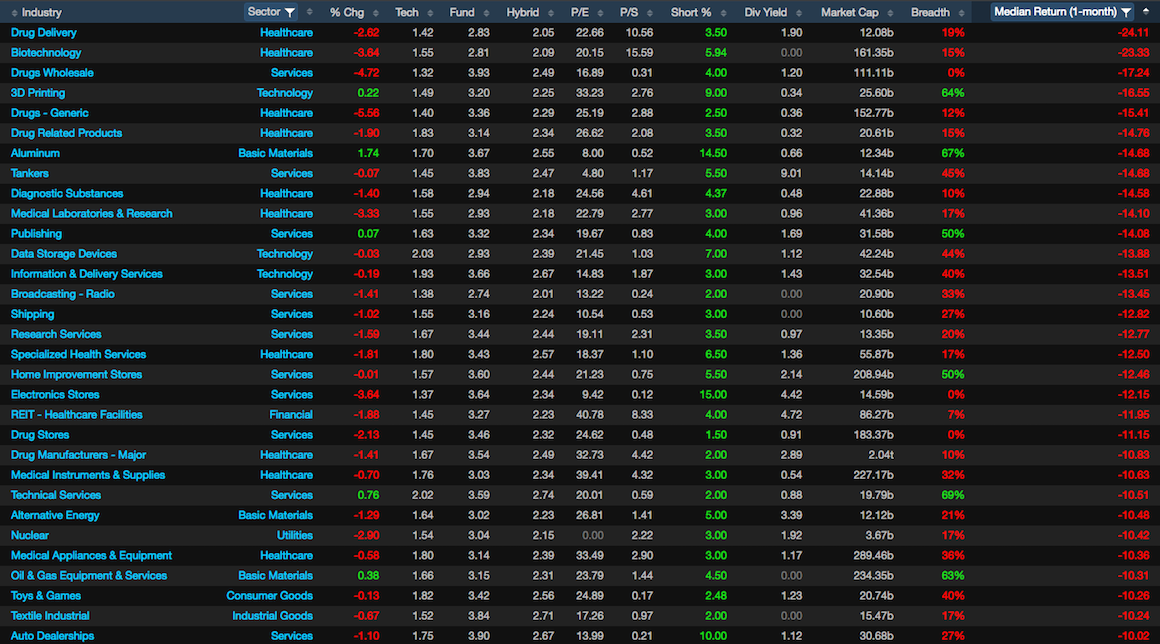 At the same time, the bond market has been getting crushed, on renewed fears that the lunatics at the Fed are leaning towards hiking rates in December.
As of tonight, there is a 71.5% chance the Fed will hike in December.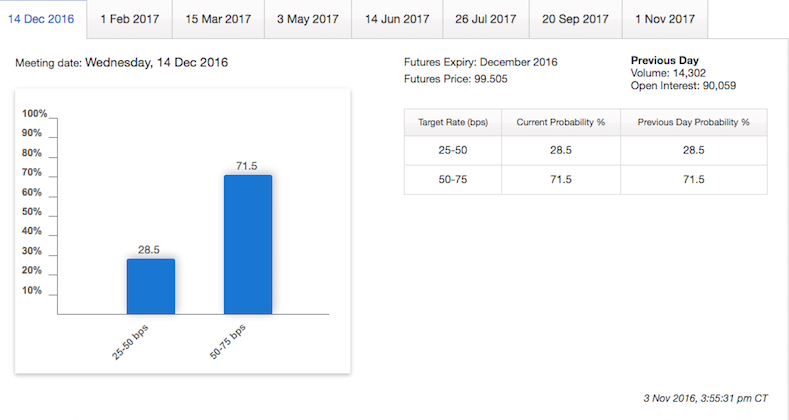 Inside Exodus, I monitor the risk of the market through my 'Bubble Basket', which is now breaking down in magnificent fashion.

Although dozens of sectors are down more than 10% on a median basis and at least 10 are approaching bear market territory, it's likely the carnage will continue — unless the Fed reveals a more liberal approach to policy — which will provide markets with the appropriate tinder needed to start a short squeeze.
As you can see by recent earnings out of GPRO and FIT, the consumer isn't going to save Xmas, and there is appreciable downside risk to the retail sector from current levels. For the better part of 2016, we've been ignoring the problems in the economy — slowly marching higher to new highs, in spite of the fact that fundamentals were worsening.
Gun to the head play: gold, bonds and short stocks into Xmas and cash out in early 2017 — after a monstrous drop in January — fueled by FX dislocations in China.
In short, tread carefully.
If you enjoy the content at iBankCoin, please follow us on Twitter