Tell me how this is going to help the ailing Deutsche Bank?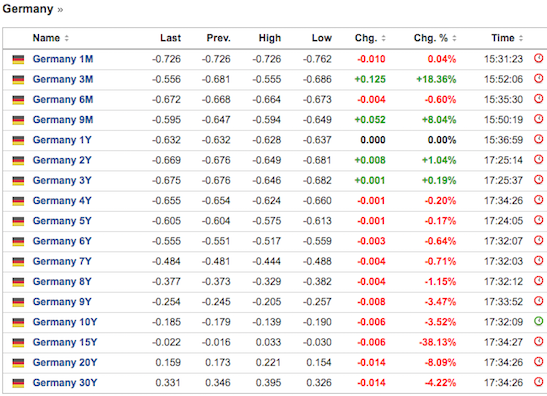 Whereas H. Clinton might get off scot-free, the EU will not. Anyone who is a supporter of the EU, I beg you to defend the actions of its central bank, a bank which has caused misery on a biblical scale across europe. For the love of black holes and swans, the entirety of the German yield curve is on the precipice of disaster–now negative up to 15 years in duration.
German bunds at -0.185% is the backdrop for markets to work against. Sure, equities look damned good against those negative rates. But, then again, only an idiot would construe those rates to be a result of normal economic circumstances.
Ladies and gents, these are times wrought with financial penny dreadfuls. Nothing about this is normal, so cast aside any models you might have which helps you to sleep well at night.
Dark days are ahead. Board the fucking ark, already.
If you enjoy the content at iBankCoin, please follow us on Twitter