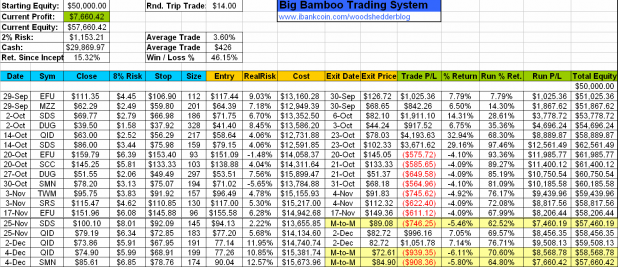 My trusty laptop, the one I've done the bulk of my blogging, surfing of the interwebs, and checking email on for more than two years, has died. Luckily, it gave me some heads up that it may be getting ready to kick the bucket, and I was able to get everything from it that I wanted to keep. The point of all this is that I hate blogging, surfing, and doing research on a desktop computer, so blogging may be lighter than normal until I find a replacement.
The Big Bamboo finds itself locked into three short positions just as the market is beginning what I believe will be a huge rally. No problem. All three positions are close to being stopped out, and the system will still show a nice return year-to-date.  Of course I could be wrong about the rally. We'll see. All three open positions are marked-to-market as of Friday's close and are highlighted in yellow.
If there is a rally, the system is going to soon hit a point where it will not make any trades, until it decides what the trend is. This means it may miss the first two weeks or so of any rally, before it decides to go long. You can bet though that as soon as the trend has been defined, the Big Bamboo will be jumping in LONG on the first pullback. Personally, I can't wait to make some trades from the long side. But that is just me, and it has nothing to do with what the system will do.
Good luck this week.
No New Entry Signals
Comments »