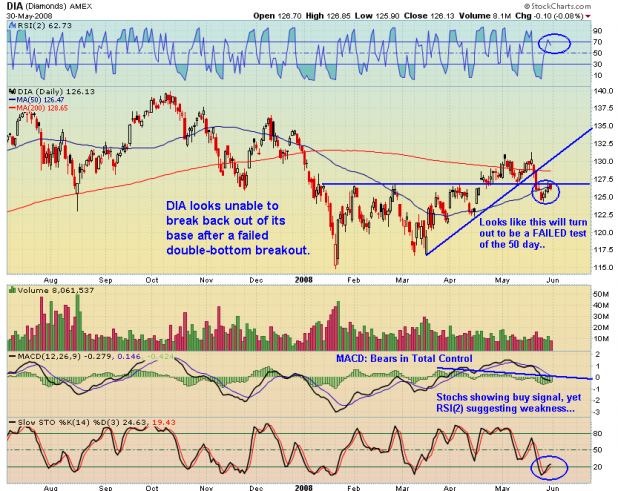 My money will be on the bears as we head into the first week of June. The technicals have been weakening as the momentum from the 2 month bull run subsides. The [[DIA]] is back within its base after a failed breakout, and it looks as its attempt last week to claw its way back out, has failed.
The MACD for the Diamonds has been in negative territory for almost all of May. The RSI(2) reading is not extreme, but is more overbought than oversold. The Stochs, however are giving a buy signal. I believe the Stochs are likely to stay oversold here for a bit longer and that this buy signal should be ignored.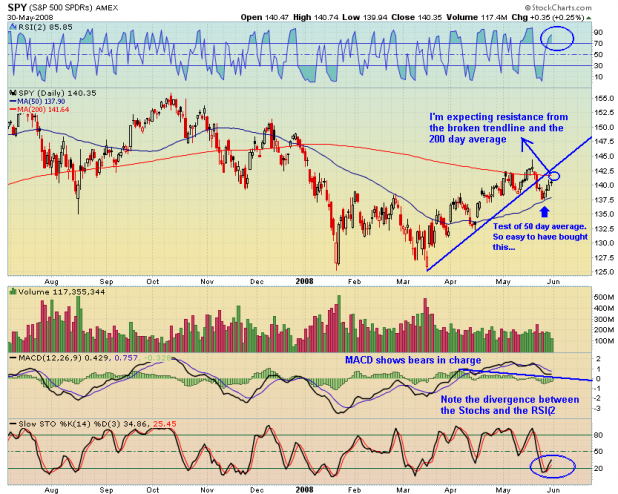 The [[SPY]] has been a tad stronger than the DIA, but has approached its broken trendline from beneath and looks like it has met resistance at the 200 day average. The SPY has a divergence between the RSI reading and the Stochs. Again, I'm likely to take the RSI signal and ignore the Stochastic reading here.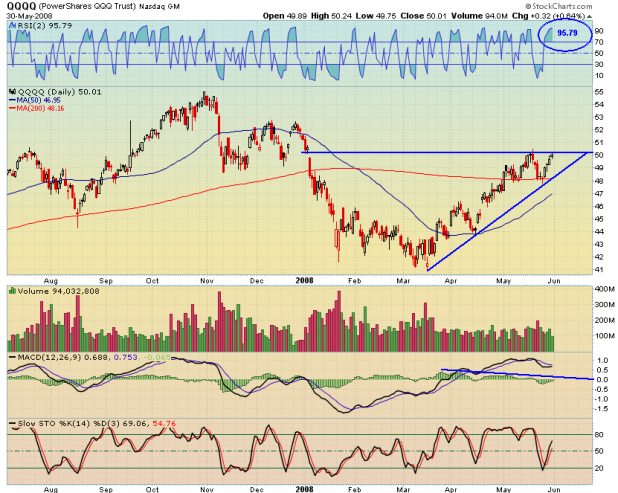 Without a doubt, the [[QQQQ]] has been leading. This chart is very sound, technically. Of course the RSI2 is high, and the MACD is negative, but the ETF has been able to bounce successfully from its 200 day average and is still above its uptrend line, which started in March. That is all very bullish.
However, the Qs were unable to surpass the May high, and they printed an indecisive little candle on Friday. Should there be weakness this week, the ETF will possibly make a lower high. Bears should not ignore the strong support at 48, nor should they forget the rising 50 day average.
Due to these factors, I will open short positions on the indexes, but I am likely to take a smaller position in the Qs, for fear of more strength revving up before any short position can get ahead.
LIkely to cast a pall over trading towards the end of the week is May's Employment Situation, due to be reported Friday at 8:30 a.m. I think this report will just add to the slowing momentum.
One item of consideration for the Bears should be the statistical edge the first three days of every month have over the rest of the days. Read about it at TraderFeed: Is There a Bias to End-of-Month Trading?
Comments »