Although the volatility has been good to me, I'm getting rather worn out from this past year's market conditions. It seems that I've never checked the futures in the middle of the night, like I have over the past six months. Everyday could bring another market crash. Everything we read is negative. In the heart of America, real people are hurting more and more all the time. 
Frankly, I miss the days when it was easy to make a buck by playing momentum. Stocks that were going up, kept going up. One could take a position and not worry night and day about having it blow up in his face.
With that in mind, I thought it might lift my spirits to post a couple of charts I might consider playing if the world was not going to hell in a handbasket. Ahh…for a little momo…a little post earnings annoucement drift…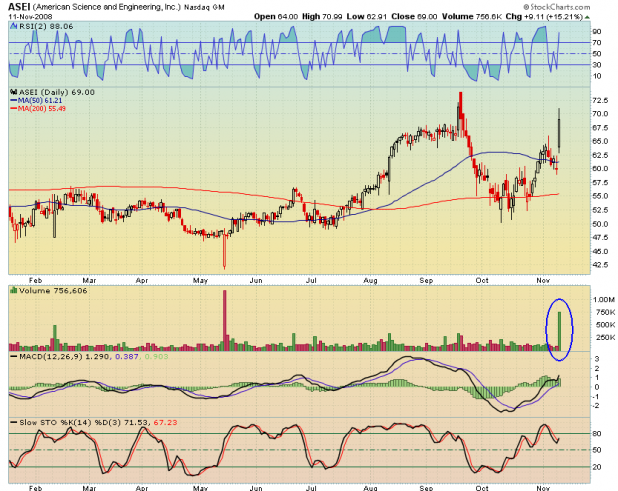 American Science & Engineering, Inc. [[ASEI]] reported on Monday, November 10th. Q2 profit grew 63%. Volume swelled today, and the stock had a huge percentage gain. This would be an excellent candidate for a PEAD play, should the markets firm up.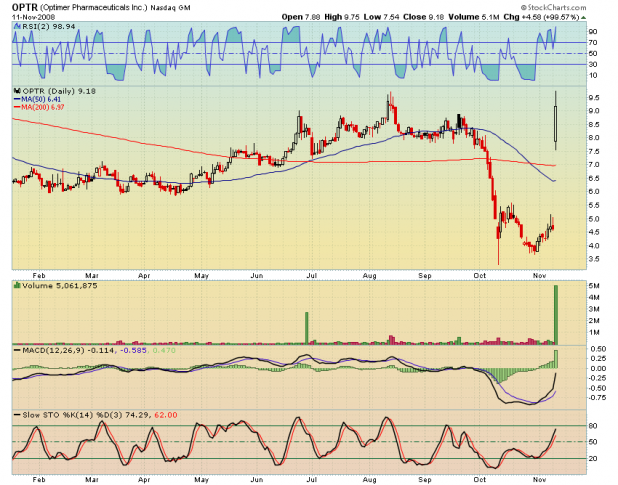 Optimer Pharmaceuticals, Inc. [[OPTR]] is a biotech, so all the usual caveats apply. OPTR just released results for their new C. Difficile drug, which had better results than the ViroPharma Incorporated [[VPHM]] gold standard, Vancocin. Volume, and the 100% gain on this one should put it on radar screens, assuming the Dow not see 1,000. That's right, I said 1,000.
 
Comments »