Fund flows over the last few weeks show that money came out of index and equity. The echoing sentiment out there is that these daily fades are going to connect soon and lead the market lower.
The problem is, HF's have already sold and retail has been raising cash and positioning for lower.
This chart is still paramount, IMO.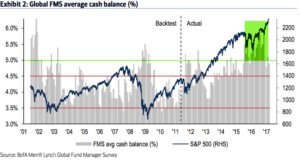 Cash position stayed in extreme high territory for the longest duration on record. Even now, we're still sitting around that 5% threshold.  When we dip UNDER 3.5%, that is where markets top and correct.
Last week, we hit the lowest bull sentiment reading for the year, as well as the highest bear sentiment for the year via AAII.
If the market resolves this little chopfest higher, people will be forced to chase back in at higher prices. That will be the first bull trap scenario we've had in ages.
That is why I think you wait for May to play for downside.
If you enjoy the content at iBankCoin, please follow us on Twitter