First of all let me just say — Stocklabs is now flagging oversold for the overall markets. Although the recent data isn't all that encouraging, I'd be remiss after using these OS signals, quite successfully might I add, if I did not use them and position for a bounce. Some will argue "this time is different" but I rarely find that to ever be true or a valid argument to deviate from a planned path. Whilst there have been missed oversold signals in the past, usually at a time when things break in the world or the market, again, I'd be doing myself a disservice if I did not at least try the long side at this juncture.
Also, and this is purely anecdotal, the website traffic on Friday was +245% over last year, +96% for the week. I typically only see traffic spikes like this during periods of duress and it almost always leads to a bottoming process in markets.
That being said, I was doing some research and wanted to share some beaten down ideas.
The next bit of data are hardest hit stocks the past month with a minimum dividend yield of 2.5%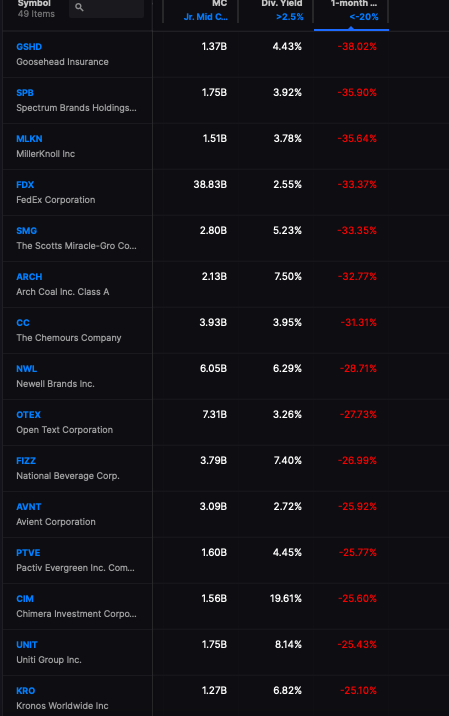 Next are hardest hit stocks, min cap of $5b, no divvy filter.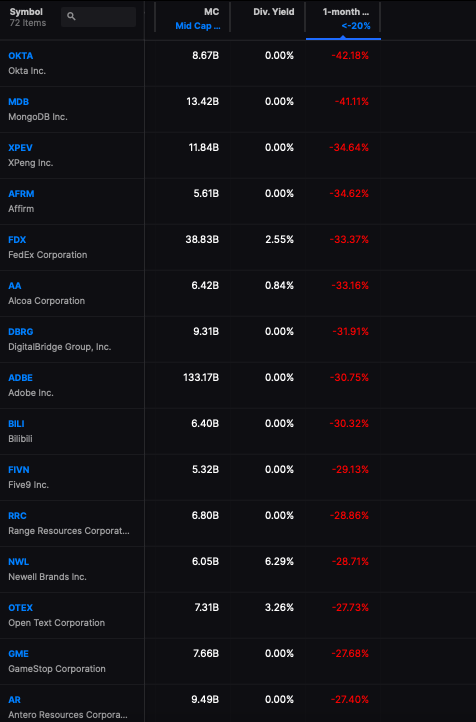 I find little reason to play individual stocks now, unless of course the aim is to hedge in some way or attempt to play some sector that might greatly outperform, such as oil and gas. In my experience, the first move is usually a false one, so expect the initial rally to fade and then disappoint — which will lead to a true bottom where larger returns might be enjoyed.
Although stocks have sharply decreased in value the past month, fear has largely been absent due to the spoiled rotten nature of participants, who have been programmed to believe the Fed will save them. This time around, no one is coming to save you and the only way out is through the fires.
Once we get through this oversold condition and markets bounce, I will once again take on a bearish disposition — which will hopefully coincide with the complete destruction of western finance as we know it.
If you enjoy the content at iBankCoin, please follow us on Twitter