This is the most important set of numbers you'll see this week.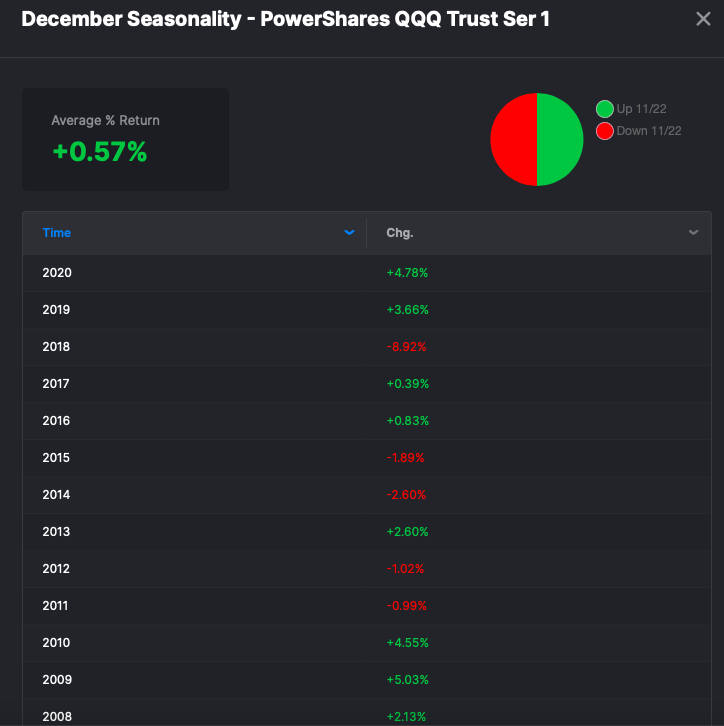 Seasonal Returns for QQQ since 2008
Everyone expects things to happen right away — but it just isn't in the cards for December. There are been years when December started off bad and then recovered and other years when it took off like a rocket ship, only to succumb to Xmas fatigue syndrome and fade into New Year's. As you can see from the data above, it's more or less a nothing-burger month — with the real movement reserved for January.
Futures are sharply higher tonight, alongside a +5% move in WTI — but I doubt it will hold. Or if you does hold, the rally will be narrow and traders will be churned up and spit out. The year is ostensibly over and November was an extreme bust — having absconded with a 6% gain only to later on get hooked and eviscerated by "market forces."
January brings many things, but in this environ — forebodings loom. Look at the writing on the wall — a brand new OMICRON COVID strain sounding like a fucking Deception gone rogue intent on eliminating humanity. It is all but assured that when OMICRON sashays in the very gay NYC — it will be light's out. If we lock down again, well now, I suspect extreme measures will be taken, including restrictions on domestic inter-state travel, in an effort to cajole people into injecting themselves with graphene razor blades. This is not unique to the United Steaks, but instead a prison planet — whereby all western and eastern nations are onboard with a medicinal attack on its populace in the name of safety. The last time we were sold a bag of goods for safety was post 9/11, which ushered in a wave of Draconian laws all designed to monitor and censor people who do not tow statist agi-prop. On top of that, "they" have constructed the American society via decades of successful promotion of a cancerous and toxic "culture" which has led us to this tipping point we find ourselves in, which is the incredible belief of violence being the preferred method of dealing with the problems we face now — all in the name of social justice and injustice and it is widely believed that a political solution to these problems is off the table. The only thing keeping both sides of slitting each other's throats is the fabric of our economy — near full employment — fruitful for many and good enough to keep the animal spirits at bay.
Let's hope for the best and perhaps the specter of OMICON being no more than a bad flu with SPIKED PROTEIN characteristics. I have been preparing for a "Dark Winter" for the better part of the last 20 years. We may in fact get it and get it soon, but not during the month of December.
If you enjoy the content at iBankCoin, please follow us on Twitter