Be afraid. Soon the virus will be here and markets will seize up because commerce will grind to a halt. The market is only now understanding the gravity of the situation and that is now being reflected in share prices. But we're just getting started.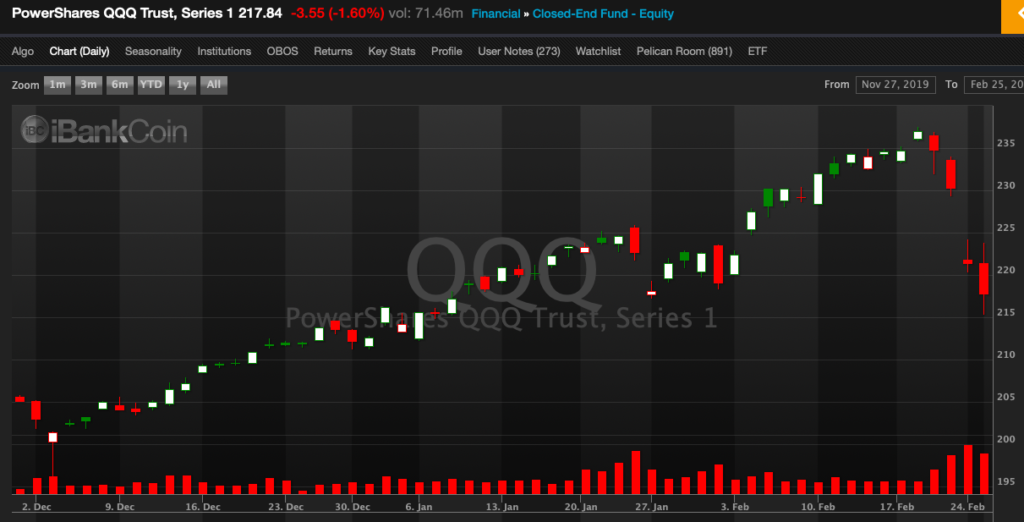 Congrats, we're now at Jan 2020 levels. December 2019 levels takes the NasCRACK down to 200, or 8% lower from here. That's my short term target.
Today, trying to be clever, I made a variety of moves. Here are the results.
SOXS +2.6%
(SIG -4.6%)
(CCC -6%)
APT +48%
APT +28%
(TNA -5.5%)
(SPCE -6.2%)
The TNA and SPCE trades were poor attempts at me trying to catch a bounce. What I should've done is stand firm with my overnight SOXS position. Nevertheless, I did catch a day trade in APT for +28% and 48% from shares I bought a day or so ago. Who remembers these things anymore? The one constant in all of this is cash. I have lots of it — now about 40%.
In short, we dive into the close and dive again tomorrow, amidst the sorrow and the angst. The virus is coming and so are the margin clerks.
If you enjoy the content at iBankCoin, please follow us on Twitter