I am building a SHIT BASKET. Any questions? I told you when my house flooded the fuck out — a magnanimous gain was just around the bend. At first, I thought it was because I owned CYBR and that stock is up 20% today — but no. The Gods had much greater things in store.
Also, my ZUO and triple sized NUGT positions are taking off — but that wasn't it either.
I came upon a small piece of shit company this morning and seized upon it immediately, with savage qualities. Ticker is FUV and I own it from low $4s.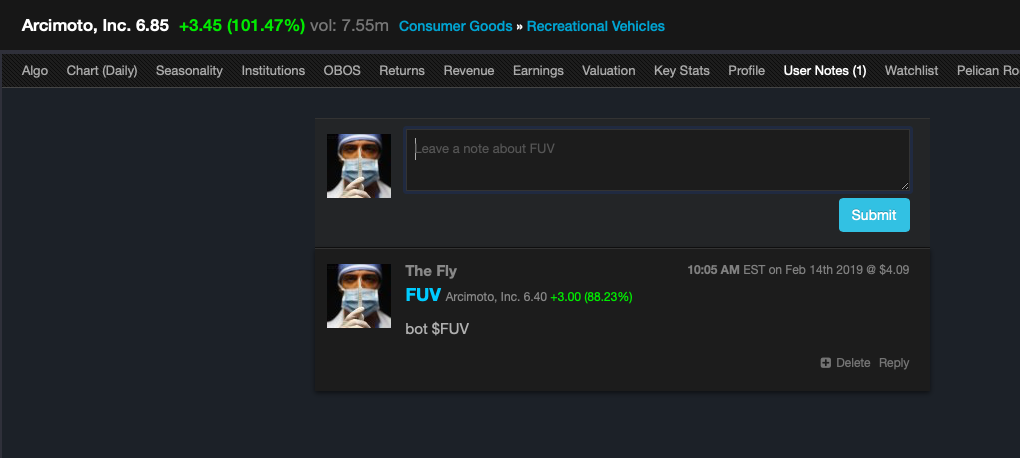 The stock is now screaming for $7 and I'm up nearly 60% intra-day, with no intention of selling. Gentlemen of my stature do not sell for morsels of money. We require gobs of it in order to festoon our homes with luxuries — bangles and baubles — little fucking asshole trinkets that require zeal to purchase them.
Seeing markets poised to BTFO — did I recoil from the dangers of risk and raise cash? Quite the contrary. I dove into the cesspool of muck and reemerged with fistfuls of shit.
Here's what I bought into the bell.
FCEL, PLUG, BE, CAAS, and SORL.
The theme is electricity and power generation. This is what Wall Street wants now and I am the weather vane on top of the great grande roof — forecasting great dick-suckings to come. You cannot stop the buying, nor can you ignore it. Everything you think you're doing is secondary to what I am doing — zipping fast and with alacrity — poised and graceful — both violent and carrying a heavy heart made from steel — immune to the pangs of volatility — because I am volatility.
Good day.
If you enjoy the content at iBankCoin, please follow us on Twitter