Pay attention to the market very carefully. Like I said earlier, the bulls have two magic bullets in the chamber left.
1. Trump-China deal.
2. Fed pause
Aside from that, the market will run up or lower on earnings.
Here's Trump trying to defy the laws of nature that say "MARKETS DO NOT BOTTOM ON FRIDAY'S" talking nonsense about a Chinese trade deal. This, my friends, was done on purpose to move markets.
"China wants to make a deal," Trump said, adding that the tarrifs the United States imposed on a range of Chinese products have put pressure on that country to agree to a trade pact.

"I think we'll have a deal. We'll find out very soon," he said.
Eventually, he has to make a deal. These press releases are going to be faded soon and markets will get tired of the talk and actually punish stocks whenever the President talks. That's what happened in 2008.
If you sense frustration in my tone, you'd be correct. About 5 mins before that statement, I bought SOXS — based on several factors, one of which is white candles and how they lead to more white candles.
Observe.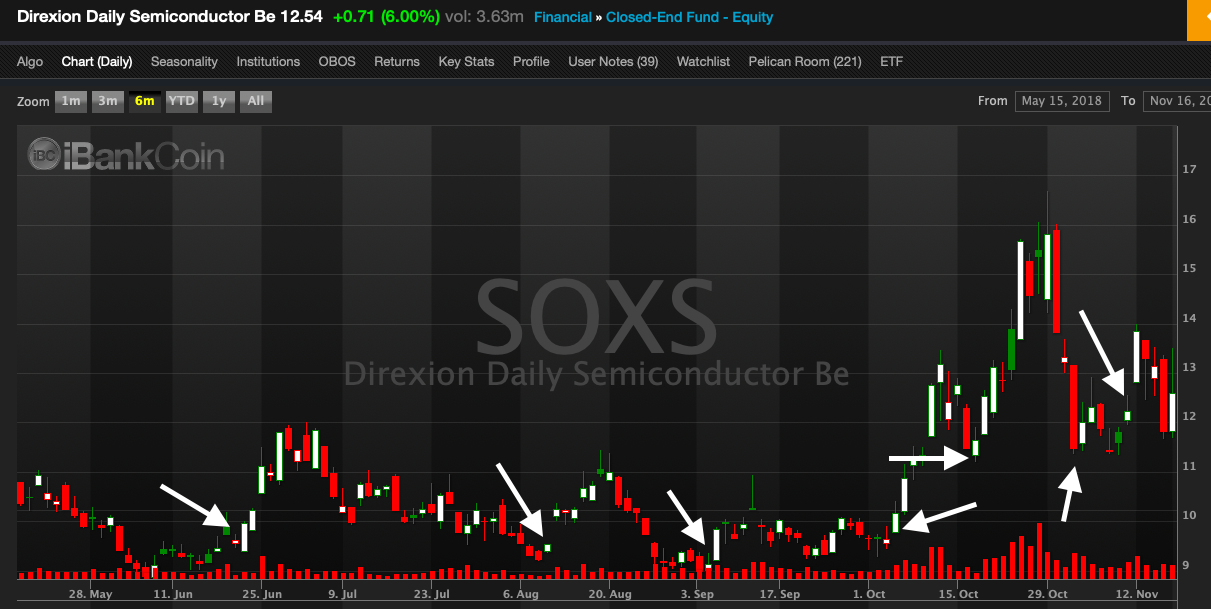 Without an outlier news event, SOXS should trade sharply higher next week.
Bear in mind, the economy is the issue here — not this other stuff. It's noise. Pay attention to what Cramer and Faber say in the clip below. Really listen to it and understand that you might be early if you're bearish on markets now — but you might be correct if we're heading towards a very fast slowdown.
If you enjoy the content at iBankCoin, please follow us on Twitter