I'm not calling a top and will probably never try to. I've learned my lesson over the year with trying to call tops. But, and let this be reminder 1,001, when stocks go parabolic like this CBD infused rally — it's dangerous to buy into the momo. There will be an inflection point and all of the hot money will quickly vacate the sector, leaving bag holders to die a filthy and a fat death.
You should play the space, but do so with dignity and limit your position sizes to under 10% per transaction.
I know, some of you are pathetic pikers with 4 figs in the market. The max you should go is 20-25%, anything more than that is simply gambling, which is fine if you're okay with losing everything.
Maxim is out with a downgrade this morning on NBEV. I've got another one coming later.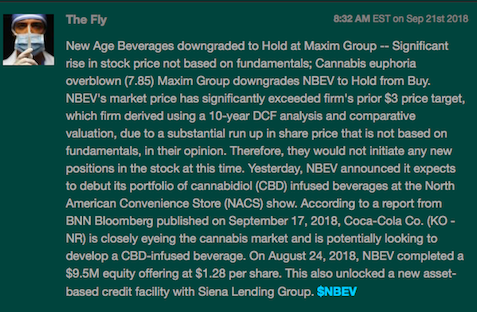 If you enjoy the content at iBankCoin, please follow us on Twitter