Crypto currency Bitconnect (BCC) plunged from $321 to a tad over $35 today, a drop of more than 86% after regulators from state authorities issued cease and desist letters for unauthorized sale of securities. That's right. Just because your shit is on the blockchain, that doesn't mean you get to solicit your fucking Ponzi scheme to people in America. State regulators will have something to say about that.
Via the company's website, as per the reasons for shutting down.
The reason for halt of lending and exchange platform has many reasons as follow:

The continuous bad press has made community members uneasy and created a lack of confidence in the platform.
We have received two Cease and Desist letters, one from the Texas State Securities Board, and one from the North Carolina Secretary of State Securities Division. These actions have become a hindrance for the legal continuation of the platform.

Outside forces have performed DDos attacks on platform several times and have made it clear that these will continue. These interruptions in service have made the platform unstable and have created more panic inside the community.
Price action.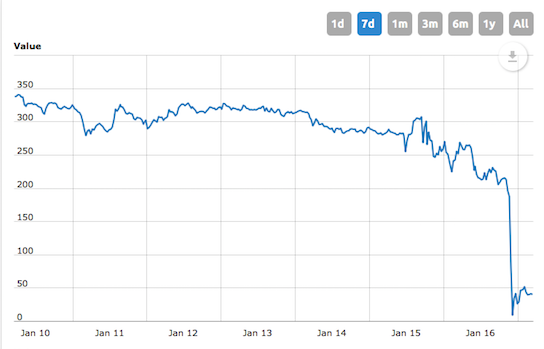 What did Bitconnect do? They quite literally ran a Ponzi scheme. Look at one of their brochures, promising investors 40% returns, PER MONTH.

Via Tech Crunch:
Many in the cryptocurrency community have openly accused Bitconnnect of running a Ponzi scheme, including Ethereum founder Vitalik Buterin.

The platform was powered by a token called BCC (not to be confused with BCH, or Bitcoin Cash), which is essentially useless now that the trading platform has shut down. In the last The token has plummeted more than 80% to about $37, down from over $200 just a few hours ago.

If you aren't familiar with the platform, Bitconnect was an anonymously-run site where users could loan their cryptocurrency to the company in exchange for outsized returns depending on how long the loan was for. For example, a $10,000 loan for 180 days would purportedly give you ~40% returns each month, with a .20% daily bonus.

Bitconnect also had a thriving multi-level referral feature, which also made it somewhat akin to a pyramid scheme with thousands of social media users trying to drive signups using their referral code.

The platform said it generated returns for users using Bitconnnect's trading bot and "volatility trading software", which usually averaged around 1% per day.

Of course profiting from market fluctuations and volatility is a legitimate trading strategy, and one used by many hedge funds and institutional traders. But Bitconnect's promise (and payment) of outsized and guaranteed returns led many to believe it was a ponzi scheme that was paying out existing loan interest with newly pledged loans.

The requirement of having BCC to participate in the lending program led to a natural spike in demand (and price) of BCC. In less than a year the currency went from being worth less than a dollar (with a market cap in the millions) to a all-time high of ~$430.00 with a market cap above $2.6B.
Lenders into the Bitconnect Exchange have revealed the company is closing out accounts, issuing BCC in exchange for their dollars — which is causing the price to plummet.
Bitconnect is officially closing up. They sent me 33 BCC for my $11k+ in loans. Worth $6600 and dropping by the second. Their exchange is down so the only option is to send the BCC to an external exchange.

— LifeByAdam (@LifeByAdam1) January 16, 2018
Was too late getting BCC to an external exchange. Price has already plummeted. $11k now worth less than $100. They pulled a good one by letting us believe they were doing the right thing. Paying us back BCC that is now worthless. Should have known better I guess…

— LifeByAdam (@LifeByAdam1) January 16, 2018
Over on Reddit, there is a subreddit dedicated to this Ponzi scheme, which has just gone private — likely due to an influx of schadenfreude. Suicide watch is in effect.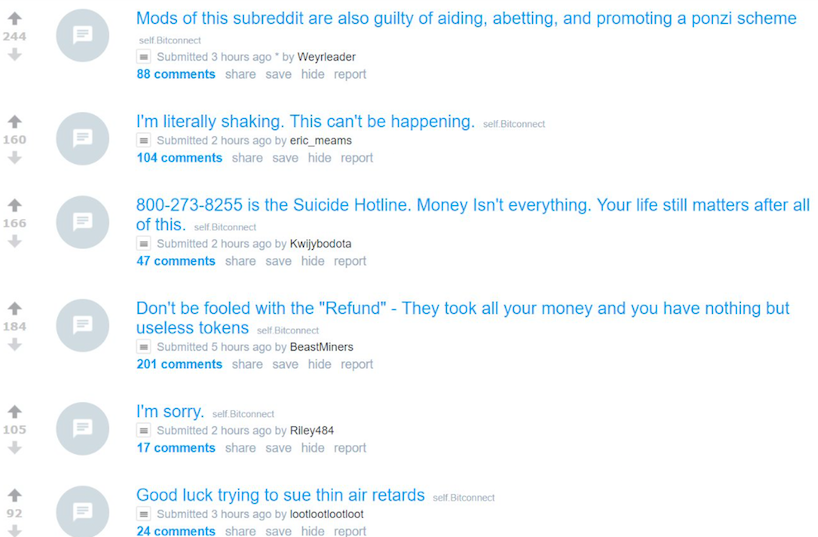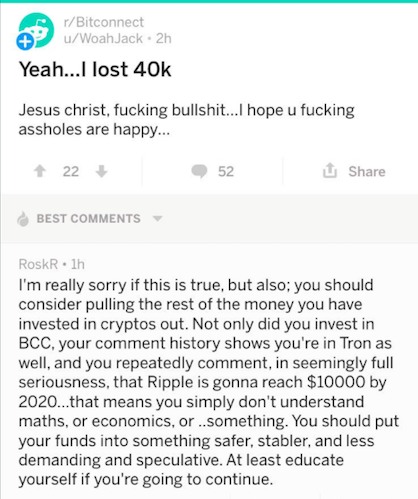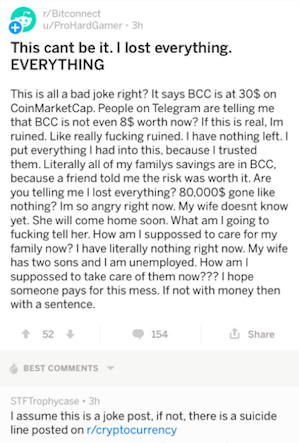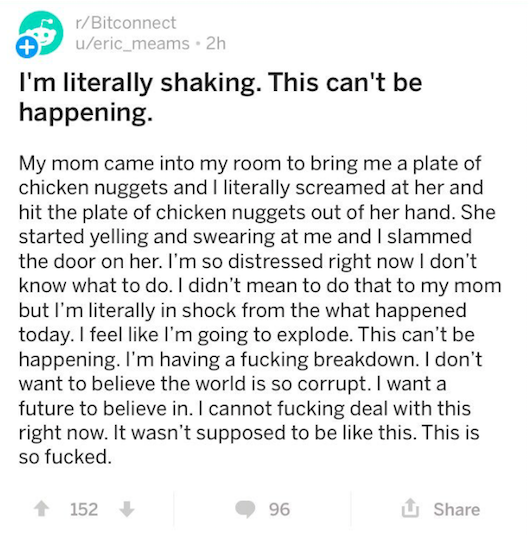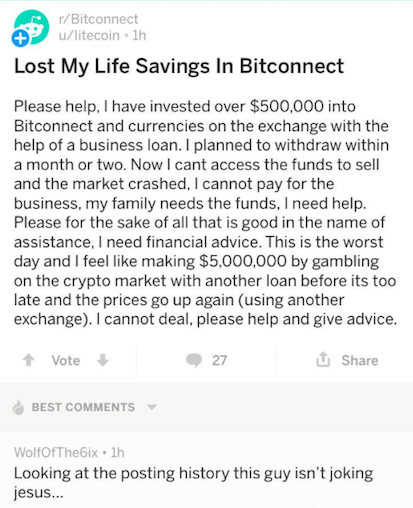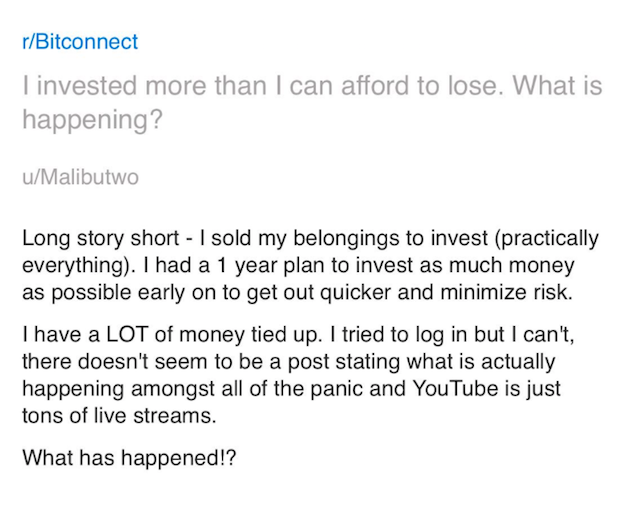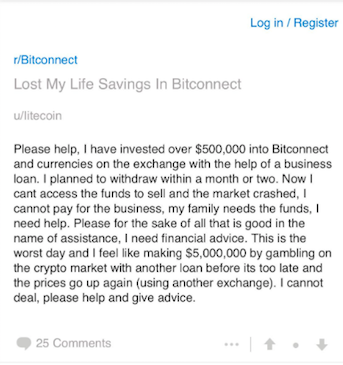 This just about sums it up.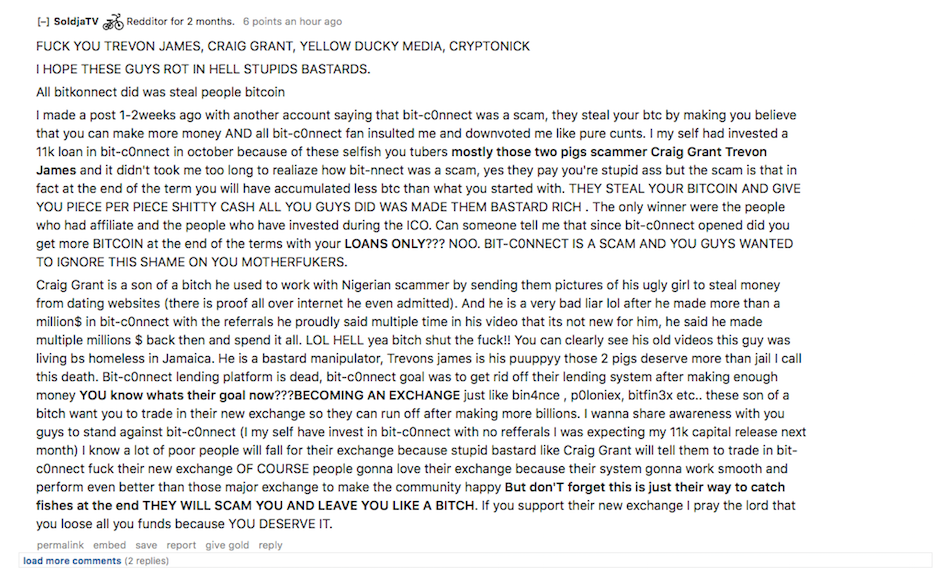 And then there's this guy — popular Youtuber, Trevor James, who rose to fame because of Bitconnect, telling people he's buying Bitconnect now at these prices. He has since taken down that video and is in hiding.
Buying Bitconnect coins on HitBTC ? pic.twitter.com/Du62ui7Ont

— Trevon James (@BitcoinTre) January 17, 2018
You only lose when you sell.

— Trevon James (@BitcoinTre) January 17, 2018
If you enjoy the content at iBankCoin, please follow us on Twitter